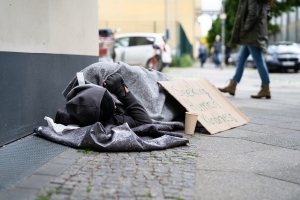 Seek the help of a professional security guard company in Alhambra & Culver City, CA to deal with homeless people appropriately
Lately, homelessness has become a dominant issue across the globe. Now, if we talk specifically about USA, then currently it is more than 5, 67,715 homeless people residing in the States. This data is indeed shocking! And with the rise in this issue, dealing with these people has also become a major problem for many house owners.
The hard hitting fact is many house owners do not know how to deal with homeless people properly when they inhabit their spaces. And so, dealing with them or removing them from the premise becomes a highly challenging task for house owners. It takes a toll on their mental health!
Besides, not all homeless people are timid or submissive, some are aggressive as well. So, if they are not handled carefully, then even a smallest incorrect act can trigger serious conflicts. Hence, to handle homeless people appropriately, it is essential to hire resilient and professional security guards.
So, if you are someone fed up of dealing with homeless people in your premise or don't know how to tackle them with compassion and dignity then contact Access Patrol Services (APS) to help you out with this problem.
We, APS are a highly professional and renowned security guard company in Alhambra & Culver City, CA that has the right proficiency to tackle homeless people in an inerrant manner. The guards of APS are all BSIS certified. Hence, no uncertified will be deployed to you.
Besides, we only provide morally sound and sensible guards who keep a right approach while dealing with homeless people. They abstain themselves from taking violent actions until and unless it is absolutely necessary. Honestly, we train all our security guards meticulously so that they can handle both sensitive as well as critical situation adeptly. Therefore, if you choose us you can be rest assured that only high quality security service will be delivered to you.
Further, to provide complete protection to the assigned premise, our guards continuously patrol the entire area to ensure there is no vagrant or trespassers in the premise. Apart from this, they remain highly vigilant and active round the clock (24 hours) to keep a thorough check on the client's area.  Our guards also have the ability to identify looming danger.  Consequently, they can act quickly to deter crimes from occurring at the client premise. Moreover, we keep our guards updated with nearby support centers or NGO's for homeless people. This helps our guards to shift, direct or guide the homeless people to the right support centers.
Honestly, we have over 25 years of experience in the security service industry and so we are highly capable of rendering accurate security solution to any place or area. You can completely trust on our service quality as we are the best provider throughout California.
If you are looking for highly reliable security guard company in Alhambra & Culver City, CA, then contact us ASAP. 100% high quality security service will be delivered.
Contact Access Patrol Services at 866-770-0004 with questions about security guard duties, responsibilities and functions for commercial office properties in California and Arizona or click on https://accesspatrolservice.com