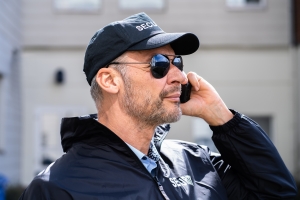 In today's times, securing an organization or office premise isn't easy.   With the mis-utilization of technologies, manipulative minds can easily access the office premise or organization.  Therefore, until and unless, your organization is safely securely with advanced security service facilities, the risk of confidential data thefts, vandalism will b there. So, it is essential to protect your organization with highly professional security services from a trustworthy security company like Access Patrol Services (APS).
We, APS offer effective security solutions to business houses/ industries and residential complexes. We have been in the security market for more than 25 years and are renowned for our accurate security service delivery.  We hire only BSIS security guards in our organization thus only qualified guards are deployed to protect the client site.
Since every site is different, we formulate a unique security plan for every site.  We do not rely on a predetermined security plan. Before catering security service to any site, the risk percentage associated with the site is calculated and also the critical areas are identified and then only a solid security plan is chalked out. The security guards are positioned carefully to cover the entire premise of the client premise.  Besides, a mix of armed, unarmed, static and mobile guards is allocated to the site to tightly secure the assigned premise
Besides, highly advanced technologies such as metal detectors, RFID tags, CCTV cameras, biometric access control, GPS monitoring system, radio transmitters, scanning machines, infrared thermometers, sanitizers etc are used by our BSIS security guards for providing seamless security service delivery. For this reason, APS is known to be the most reliable security guard company in Inglewood & Culver City, CA.
Moreover, to ensure superior security protection, 24-hour service facility is offered. Even foot patrol and vehicle patrol services are also offered to keep a thorough check on the client site.  The fact is, frequent training sessions are convicted for all our guards to enhance their capabilities. The training sessions include power drills, first responder awareness programs, rapid decision-making programs and many more. And therefore, our guards are undoubtedly vigilant, robust and efficient protectors who are able to identify impending dangers and can act quickly to deter crimes from occurring.
Therefore, if you are looking out for a reliable security guard company in Inglewood & Culver City, CA for absolute protection, then do contact APS for the same. We guarantee 100 % delivery of highly professional security service.
Contact Access Patrol Services at 866-770-0004 with questions about security guard duties, responsibilities and functions for commercial office properties in California and Arizona or click on https://accesspatrolservice.com