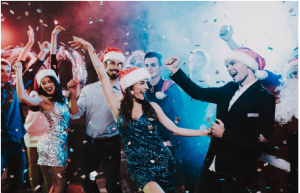 If you are planning for a Christmas party or a New Year party at your place, then one thing you need to prioritize before you arrange for the same i. e security protection. Professional Security protection should be your top propriety when you arrange for large events at your premises. At an event, constant vigilance and surveillance are essential because prevention is always preferable than management, especially when it comes to an incident. Event security personnel must constantly be on the lookout for potential mishaps in huge crowds and take appropriate action if anything seems off. No matter whether you arrange the party at your lawn or in a banquet, presence of professional event security guards is a must.
Professional guards' help to establish a safe and secure environment as it intimidate convicts. It has been observed that convicts often look out for events that don't have resilient security protection to carry out their motives. A comprehensive security plan must consider crowd management (or crowd control), which can begin with security screening and last all the way to ensuring that every participant leaves the venue safely when the event is over.
So, if you wish to arrange a grandeur party at your place, safety and security should not slip out of your mind.
Access Patrol Services (APS) is a highly professional security guard company in Cabazon & Banning, CA, which provides sturdy, vigilant and professional security guards for absolute protection to events and occasions. APS understand that every event is unique and so the need for security requirement of each client will differ. Hence, APS formulates security plan based on the type of event and also on the needs and preferences of the customer. Most importantly, only BSIS certified guards are provided to the client site for absolute security protection. APS recognize that no matter the scale of the event, security screening is one of the most crucial components of event security since it can stop problems in their tracks. The use of metal detectors to attendees as they enter could also be part of the security screening process, depending on the sort of event.
Moreover, APS's event guards are trained specifically on crowd management and rapid decision making programs to ensure that during times of need, they have the ability to tackle the situation in a proficient manner.  Besides, the main aspect of APS is, it deploys a proper mix of armed, unarmed, static and mobile guards based on the size of the event which ensures complete and robust security protection to your event. A checkpoint on the exterior of the venue will often be used for the screening procedure. Here, event security professionals can check bags and conduct in-person searches for alcohol or concealed weapons.
Plus, APS's security professionals are also be responsible for ensuring the protection of vehicles parked at an event as events can often be the target for crime when criminals know that individuals will be gone from their vehicles for a set amount of time. To ensure that visitors can enter the premises only through the authorized access points, security staff remains aware of all possible entry and exit points from the venue when it comes to access control. Hundreds  of vehicles may be trying to come or depart at once in some circumstances, necessitating the assistance of the event security team to make sure people are parking where they should and that there is a traffic flow that enables visitors to reach the event securely. Due to the accuracy and professionalism APS is now considered as the most resilient security guard company in Cabazon & Banning, CA for any event or Christmas party security.
Besides, the services of APS are highly based on latest technologies for providing errorless service. Usage of RFID tags, radio transmitters, and CCTV cameras, GPS monitoring system, automatic sanitizers and infrared thermometers are used by the guards of APS for providing absolute Christmas party security or any other event security.
Above and beyond, APS is majorly driven by customer satisfaction and hence personalized security facility is offered to each and every client so that they can pick security features as per their needs and wants. Also, APS provides full freedom to the client to incorporate new changes in the existing security plan at any point of time.
Therefore, if you are searching for a resilient security guard company in Cabazon & Banning, CA for any event Christmas party security or New Year Security, then contact APS for the same.
Contact Access Patrol Services at 866-770-0004 with questions about security guard duties, responsibilities and functions for commercial office properties in California and Arizona or click on https://accesspatrolservice.com