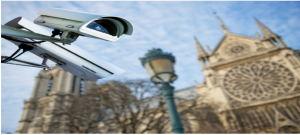 The bitter truth is, due to the result of communal disharmony, places of worships are also being targeted for crimes. Recently, church crimes have been in the news frequently.  Thefts, murders, robberies, vandalism, etc., are common occurrences that are taking place inside and outside many churches.  Hence, it is of utmost necessity to escalate church security service to ensure complete protection.  If you are someone looking for highly professional church security, then contact Access Patrol Services (APS).
APS holds 26 years of experience in the security service domain. And owing to such significant amount of experience, APS has the aptitude to secure all types of properties/ premises including places of worship.  APS is known to be the most professional security guard company in Bellflower & Paramount, CA. APS's church security guards are not only robust individuals, but also highly sensible protectors. They understand the value of the church premise and thus know how to maintain the modesty of the place.  They persistent patrol the church premise to keep it safe and secure.  If they sense any suspicious activities inside the church premise, they take strong action to abate the same.  Also, they keep an eye out on every church visitor to ensure complete safety.
Most importantly, crowd control management, Power drills, first responder awareness program, intellect development programs are some of the mandatory training that are imparted to the church security guards of APS to enhance their skills. Therefore, the guards are extremely skilled to protect church premise.
Also, since every church premise is unique, an exclusive security model is formulated for the assigned church premise.  The plan chalks down all the porous and blind points of the church premise to provide absolute security protection. A mix of armed and unarmed church security guards is placed strategically inside and outside the church premise to prevent threats. Plus, the guards are provided with  many security gadgets  such as CCTV cameras, GPS monitoring systems, radio transmitters, cloud devices,  scanning machines, metal detectors, automatic sanitizers, infra-red thermometers for rendering superior security service delivery.
Furthermore, church authorities are provided with full customization facilities so that they can pick security features as per their needs and preferences.
Therefore, if you are in search of the most professional security guard company in Bellflower & Paramount, CA for highly professional church security, then you can get in touch with us ASAP.
Contact Access Patrol Services at 866-770-0004 with questions about security guard duties, responsibilities and functions for commercial office properties in California and Arizona or click on https://accesspatrolservice.com