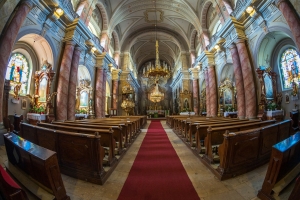 Over the last two decades, church crimes have been increasing hastily. Thefts, explosions, robberies are not new to churches any more. According to a recent report, a bomb was exploded by criminals in the church premises causing severe damage to the church property.
And so, California's Governor Gavin Newsom made strict guidelines for indoor church service.  The reason identified for such frequent crimes in churches was due to lenient security arrangements for these premises.  Therefore, it is high time to escalate church security to safeguard these sacred places from uncertain threats.
Our organization, Access Patrol Services (APS) is a trustworthy security company in Woodcrest & Moreno Valley, CA which provides professional church security service by deploying highly skilled and BSIS certified security guards to churches.  The fact, we have over 26 years of experience in church security. Therefore, we are proficient to meet the security needs of churches.  We provide special training to our church security guards so that they are not only able to protect the place from uncertain threats but also are efficient in strictly enforcing the church guidelines to all the visitors to maintain the decorum of the premises.
The church security guards are also provided with state of the art technologies such as RFID tags, CCTV cameras, radio transmitters, GPS monitoring systems, biometric access control systems, metal detectors, scanning machines, flashlights, cloud software, mobile devices, infra-red thermometer, automatic sanitisers and many other appliances for providing flawless security services to churches.
Apart from this, rigorous training is also provided to the guards to keep them updated with advanced techniques and methodologies. The train sessions comprise power drills, rapid decision-making programs, intellectual development programs, crowd control management and many more. Therefore, our guards are highly capable security protectors who can address all kinds of security threats to keep the assigned church premise safe and secure.
Most importantly, we are an intensely process-driven company. And hence, before we render service to the assigned church premise, we send our experts to visit the premise to figure out the critical points, calculate the risk percentage associated with the church and mark all the vital areas such as all the entry and exit points of the churches. Once, the analysis is completed, we proceed to structure a robust security plan to ensure all types of security guards such as armed, unarmed, mobile and static guards are positioned strategically to provide absolute security cover to the assigned church.
Therefore, if you are searching for a trustworthy security company in Woodcrest & Moreno Valley, CA for professional church security service then, get in touch with us ASAP.
Contact Access Patrol Services at 866-770-0004 with questions about security guard duties, responsibilities and functions for commercial office properties in California and Arizona or click on https://accesspatrolservice.com