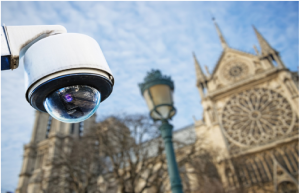 If you think churches are hardly embattled for criminals' activities then you are mistaken. According to Status of Global Christianity, church crimes might increase beyond 6 % per year. And by the end of 2025, it is estimated that the financial church crime would touch the $80 billion mark. Therefore, it is important to secure church premises with superior security protection.
And when talking about superior protection, Access Patrol Services (APS) is the most professional provider one can completely rely on. The company APS is a leading security guard company in Tustin & North Tustin, CA that is known for providing immaculate security services, especially to churches, synagogues and temples. The organization holds experience of more than 25 years in church security and thus carries the proficiency to meet the accurate security needs of all types of churches. The best aspect of APS is, it persistently tries to evolve and adapt new security techniques and methodologies to provide errorless security service to assigned premises.
Besides, since APS is committed to delivering quality services, only BSIS certified guards are employed in APS. Additionally, the guards are given training on several aspects such as crowd control management, rapid decision-making programs, power drills and many more. Thus, the church security guard of APS is a highly skilled security professional who have the ability to sense impending danger and can act accordingly.
Also, APS's security guards are highly responsible and so to maintain the decorum of the church premise, they strictly enforce the church guidelines to every visitor. Besides, they perform patrolling every 20 -25 minutes to eliminate all sorts of suspicious activities inside the assigned premise. Moreover, if the church security guards observe any fishy activities of any visitor; they immediately investigate the same and take apt act to defuse the activities.
Most importantly, APS is a tech-oriented firm, and so the guards of APS remain well-equipped with all sorts of latest technologies or gadgets such as GPS monitoring systems, RFID tags, CCTV cameras, radio transmitters, metal detectors, scanning machines, flashlights, infra-red thermometer, automatic sanitisers and many more for providing seamless church security service delivery.
Besides, the church authorities are provided with customization facilities so that they can incorporate security features as per their needs and preferences. So, if you are searching for a robust security guard company in Tustin & North Tustin, CA for robust church security service then, do contact APS for the same. 100% guaranteed professional security service will be provided to the church premise at an affordable rate.
Contact Access Patrol Services at 866-770-0004 with questions about security guard duties, responsibilities and functions for commercial office properties in California and Arizona or click on https://accesspatrolservice.com