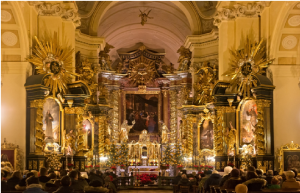 Churches being sacred places are often perceived as premises that are free from dangers or threats. However, the truth is just the opposite. Convicts understand this well-perceived notion of the masses and try to take undue advantage of this mentality. This is why churches are the main hotspots for criminals. Besides, as churches are open to all, it becomes easy for felons to enter the premises. Hence, it is extremely important to have professional security guards stationed at all the entry and exit points of the churches to keep track of the activities of individuals entering and exiting the premises.
Given below are some of the main reasons why professional security guards are an absolute necessity for protecting churches:
Patrolling: Professional church security guards are sensible protectors. They understand the modesty of the church premise and thus ensure to provide full protection of the church without hampering the church's decorum. They carry out frequent patrolling inside and outside the church premises to abate wary or suspicious activities. Also, if they observe anything fishy, they immediately take action to defuse the same.
Enforcing guidelines: Professional church security guards have adept knowledge of church guidelines. They make sure that every visitor abides by the rules and regulations of the churches and don't hinder the decorum of the church premise.
Crowd controlling: During weddings, holidays and weekends churches tend to have heavy footfalls. Professional church security guards company in Hemet & Winchester, CA are usually proficient in controlling a huge accumulation of crowds.
Therefore, having professional trained and certified church security guards can help to retain the peace of the church premise by abating criminal activities.  Now, if you are wondering which company to rely on, then look no further.
Access Patrol Services (APS) is a highly reliable security guard company in Hemet & Winchester, CA that offers top-quality church security. The company has over 26 years of experience in the church security service and thus can render flawless security service to churches. Besides, APS hire only top-quality, experienced and BSIS-certified security guards'. Therefore, no uncertified guards are allocated to the church premise. Moreover, APS offer customized security service to church authorities so that they can alter security specifications as per their needs and preferences.
Therefore, if you searching for top-quality church security then rely on APS as it is the most reliable security guard company in Hemet & Winchester, CA.
Contact Access Patrol Services at 866-770-0004 with questions about security guard duties, responsibilities and functions for commercial office properties in California and Arizona or click on https://accesspatrolservice.com