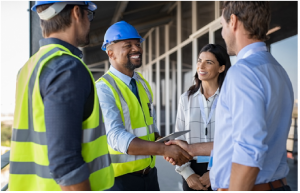 Construction sites are particularly vulnerable to thefts and vandalism as many expensive materials and equipment lay unattended to these sites for a considerable span of time. The biter fact is, not only external convicts but also workers in construction sites are often found guilty of stealing and vandalizing construction materials. Therefore, thorough vigilance on the ongoing activities in construction sites is of utmost necessity.
Our organization, Access Patrol Services (APS) is a professional security guard company in Alameda & Berkeley, CA known for rendering high-quality security protection to large premises like construction sites. All of our construction site security guards are BSIS certified and are specially trained to deal with all sorts of construction site security threats. Besides, as per the layout of the construction site, our experts align the security plan. We realize that every site is unique and therefore security requirements for each site are bound to differ.  Hence, we send our security specialist to visit and analyze the construction site before rendering security services. This process ensures the correct deployment of right number of security guards to the site.
Also, all types of guards such as armed, unarmed, static and mobile guards are positioned quite strategically to the entire perimeter of the site for full security coverage of the site. Besides, we provide rigorous training to all our construction site security guards to keep them highly competent. Therefore, our guards are adept at identifying imminent dangers and thus can act accordingly to prevent crimes from occurring.
The fact is since we have over 25 years of experience in this field; we hold high expertise to tackle every security concern of any large or small constriction project. Moreover, we also use technologies such as CCTV cameras, GPS monitoring systems, biometric access control systems, RFID tags, radio transmitters, metal detectors, scanning machines, flashlights, cloud software, mobile devices, infra-red thermometer, automatic sanitizers and many more for providing errorless construction site security service.
In addition, we also provide customized service facilities so that developers can add or choose security specifications as per the needs and preferences of the client.
Therefore, if you are someone looking for a trustworthy and professional security guard company in Alameda & Berkeley, CA for getting premium construction site security service, then get in touch with us ASAP.
Contact Access Patrol Services at 866-770-0004 with questions about security guard duties, responsibilities and functions for commercial office properties in California and Arizona or click on https://accesspatrolservice.com