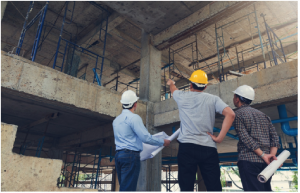 At any construction site, materials such as power tools, copper, pieces of lumber and many more and found scattered casually. And this is why thieves or convicts find it simpler to lay their hands on these materials. Besides, as construction sites are unfinished projects, often laborers or employees are prone to injuries and accidents. Therefore, every construction site needs to have absolute security protection to prevent uncertain dangers and thefts from occurring on these premises.
Our company, Access Patrol Services (APS) has a team of robust BSIS professional certified security guards. They are trained specially to render security services to large and complicated premises like construction sites. We have been in the security service realm for over 26 years and hence are quite adept to understand the accurate security needs of construction sites.
Our rich experience and flawless service delivery have made us popular in the security market. We are now considered as the most trustworthy security guard company in Los Gatos & Campbell, CA that offers top-quality protection to all sizes of construction projects.
We strictly follow process and hence send our security expert to evaluate the site before catering to security services to any site. This method is mandatorily followed in our organization to recognize all the critical spots of the assigned construction site and also to calculate the risk percentage associated with the site. And thereafter, a solid construction site security model is structured to position security guards cautiously to provide absolute security cover to the construction site.
Besides, our guards are provided training on a routine basis to keep them flexible and robust. The training programs include power drills, intellectual development programs, rapid decision-making programs and many more. Therefore, our guards are highly proficient and skilled to detect and deter looming dangers. Their job is also to perform frequent patrolling of the assigned construction site to eliminate all sorts of wary activities. Most importantly, we deploy all types of security guards such as armed, unarmed, mobile and static to protect clients' sites from uncertain dangers.
In addition, our guards use plentiful advanced gadgets such as metal detectors, CCTV cameras, radio transmitters, scanning machines, automatic sanitizers, infrared thermometers, flashlights, alarm devices etc, for delivering seamless and errorless construction site security.
Therefore, if you are looking for a trustworthy security guard company in Los Gatos & Campbell, CA for construction site security then, contact us immediately. We also offer a customization options to the developer so that they can opt for security specifications as per their needs and preferences.
Contact Access Patrol Services at 866-770-0004 with questions about security guard duties, responsibilities and functions for commercial office properties in California and Arizona or click on https://accesspatrolservice.com