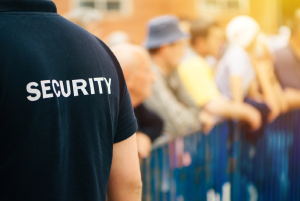 Event security is complex. Right from the decorations, refreshments to managing the guests, everything needs to be taken care of for making an event successful. But, overseeing all the aspects isn't possible without the intervention of professional security guards.  The fact is, when an event is organized grandiosely, crooks and felons try to intrude these events to take undue opportunities. Thus, hiring professional security guards for events is crucial to ensure no unauthorized individuals access the event and also to maintain the decorum of the event.
We, Access Patrol Services (APS) are a professional security company in Detroit that is proficient to address the security needs of all types of events.  APS has over 26 years of experience in the field of security service and has the ability to handle large as well as small events.  To secure the assigned event completely, APS formulates a solid security model based on the event location. The event area is first visited by the APS's experts to analyze the sensitive spots and mark them carefully.  Thereafter, an appropriate number of armed, unarmed, static, and mobile guards are allocated to the event premise.
The fact is we have specially trained event security guards who are provided with rigorous training on various critical aspects that may arise during an event.  Crowd control management, rapid decision-making programs, intellectual development programs, first responder awareness programs, etc. are some of the mandatory training programs for the guards. Therefore, our event security guards are highly capable security protectors who possess the ability to detect and deter suspicious activities that may occur in an event.  They stay highly vigilant and active throughout the event to provide absolute protection. Most importantly, all our event security guards are BSIS certified. Therefore, no uncertified guards are positioned on the event premise.
Also, our event guards are provided with state-of-the-art technologies such as RFID tags, CCTV cameras, GPS monitoring systems, scanning machines, radio transmitters, metal detectors, flashlights, infra-red thermometers, automatic sanitizers, and many other appliances to ensure the event is secured fully. The guards continuously patrol the assigned event area to diffuse threats that can hinder the event.
Also, personalization facilities are offered to the clients so that they can choose security specifications as per their needs and preferences.
Therefore, if you are searching for a robust security guard company in Detroit which can provide unparalleled event security service to your upcoming event, then do contact us for the same.
Contact Access Patrol Services at 866-770-0004 with questions about security guard duties, responsibilities and functions for commercial office properties in California and Arizona or click on https://accesspatrolservice.com