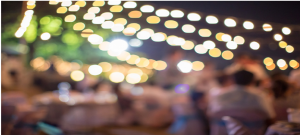 In the recent past, five people were injured in a shooting at the Gilroy Garlic Festival.  In fact, the event organizers were sued due to their negligent security service arrangements.  The truth is to make an event successful, the primary thing is to secure the premise and reluctance on that can bring severe consequences.  Hence, hiring professionally trained event security guards is a must to ensure the event venue is completely protected.
Event security guards are meticulously trained individuals who are aware of the potential threats that can arise during an event.  They are trained to make rapid decisions in times of critical situations.  They possess the ability to tackle brawls, chaos and fights in a professional manner.  Hence, employing an adequate number of professionally trained event security at your event can extensively minimize the risk of threats and can provide your guests with a secure environment.
So, no matter whether your event is of small scale or large scale, you should get professional security protection to make your event successful.   Now, if you are wondering which security company to rely on for professional event security, then you must choose a security firm that has extensive experience in event security management.
Access Patrol Services (APS) is one such professional security company in Santa Clara & Sunnyvale, CA that you can trust blindly. The company has secured an endless number of events proficiently. Besides, the company has over 26 years of experience in the security field and hence has the adeptness to secure any size of event. Note that APS's event guards are BSIS certified and experienced. Also, they are given frequent training to boost their skills.  Crowd control management, power drills, first responder awareness programs, rapid decision-making programs, intellect development programs, etc., are some of the mandatory training sessions for the guards of APS. Additionally, the guards are also provided with many advanced security gadgets such as CCTV cameras, radio transmitters, alarms, metal detectors, scanning machines and many more. So, they are immensely equipped to provide top-quality security protection to events.
Therefore, if you are looking for a highly professional security company in Santa Clara & Sunnyvale, CA for absolute professional event security, then gets in touch with APS for the same. 100% professional security service will be offered to you at a reasonable rate.
Contact Access Patrol Services at 866-770-0004 with questions about security guard duties, responsibilities and functions for commercial office properties in California and Arizona or click on https://accesspatrolservice.com