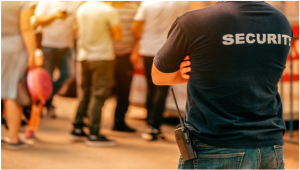 The success of an event depends a lot on how you plan it.  You need to stay one step ahead and be prepared for the unexpected so that if and when it happens, you have proper precautions to take care of it.  The fact is, no matter how wonderfully you have made all the arrangements and decorations, until and unless you have proper security backup, all your effort may go into vain within a few seconds.  Arranging or conducting large to medium events means huge accumulation of crowds/guests. And therefore, the chances of brawls, chaos, and confusion are prevalent factors.  So, professional security protection should be your topmost priority if you want to make your event a successful one.
Professional event guards help to deter unauthorized access and make sure that nothing hampers the spirit of the event. They are trained individuals and know how to manage or pacify irate guests/crowds.  Besides, they take rapid action if they notice any suspicious activities. Plus, they take charge of ugly situations that goes out of control.  They refrain from taking violent actions until and unless the situation demands for the same. They keep patrolling the premise and also help in assisting the guest with their enquiries. So, if you want to get professional event security services, then look no further.
Access Patrol Services (APS) is one of the most famous security guard companies in North Hollywood & Valley Village, CA that is particularly known for providing flawless security protection to events. We, APS have been in the security business for over 26 years and thus have the expertise to cater to the security needs of various types of events. Only BSIS-certified security guards are deployed by us for rendering highly professional event security services. Plus, we train our guards to upskill their efficiency. Some of the training programs are Crowd control management, intellect development sessions, power drills etc. Hence the guards are highly efficient to protect events from all types of threats. Besides the guards of APS are provided with various hi-end gadgets such as RFID tags, metal detectors, infra-red thermometers, CCTV cameras, scanning machines, metal detectors, GPS monitoring systems, radio transmitters, automatic sanitisers etc., to provide seamless security protection to events.
Therefore, if you are searching for one of the most famous security guard companies in North Hollywood & Valley Village, CA then, contact APS for the same. 100% guaranteed professional security service will be provided to you at an affordable rate.
Contact Access Patrol Services at 866-770-0004 with questions about security guard duties, responsibilities and functions for commercial office properties in California and Arizona or click on https://accesspatrolservice.com