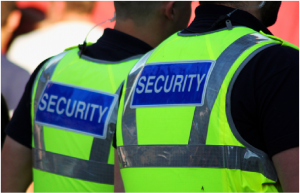 Halloween is just around the corner and so the season to get spooky and eerie has arrived! And it is the most awaited event for your children. Isn't it? So, if you and your children are soaked in the festive spirit to celebrate Halloween and planning to throw a Halloween party at our place, then hold on.
As per survey, The Halloween party presents a significantly higher risk of criminal scenes than any other occasion. And for this reason,before you arrange for that party, make sure robust security protection is there at your place. According to reports, at this time of the year crime rates spikes intensively.  Orange lights, scary inflatables and guests with mysterious masks are some of the essential things that make this event quirky but tempting for convicts to commit crimes. So, for complete Halloween security relying on a trustworthy company is a must.
Now the fact is, selecting a reliable security company is a matter that must be carefully considered. Security firms provide a wide range of services, including security guards, surveillance tools, and alarm systems, so it's important to choose one that can manage your specific needs. Here are some key considerations for choosing a professional security guard service provider in East Los Angeles & Commerce, CA.
Reputation: One of the most important factors to consider when choosing a security company is its reputation. Look for companies who have a track record of providing their clients with excellent services. Ask for references from other businesses or clients who have used the company's services.
Experience: Seek out a company with a successful track record in the security sector.
Licensing : Selecting a security company that has both insurance and a state-issued license is essential.
We, Access Control Security (ACS) are a professional security guard service provider in East Los Angeles & Commerce, CA that offers robust protection to events and all sorts of parties. All our guards deployed to the events are BSIS certified and meticulously trained individuals.  They have the ability to identify threats quickly and hence are capable of taking immediate and strong action to defuse crimes from occurring.
ACS guards understand that at the Halloween party the possibility of crime scenes are much higher than any other event. The guests in the party are often dressed up in scary clothes and it becomes extremely tricky to recognize and identify the guests.  And hence, it turns out to be easier for convicts to slip in easily as a guest, hiding behind a mysterious mask.  This is the reason; the guards of ACS remain extremely vigilant and check on every guest before they enter the party.
Now, if your party is held in a lawn or garden, then we deploy a mix of mobile, armed, unarmed and static guards to make sure critical events are handled expertly. Also, ACS mobile guards remain highly active and patrol the assigned site to defuse all sorts of suspicious activities. Besides, they take special care of the children at the party and ensure they are safe and secure while celebrating the occasion.
The organization recognizes that every event is unique, hence it is essential to develop several security models for all events. As a result, APS designs a variety of methods based on the scope and character of the occurrences. As a result, APS's expert carefully examines the complete location before creating an absolute security strategy before serving the approaching event. This procedure aids APS in strategically and effectively placing security officers to offer complete security coverage to the most vital regions. Additionally, a sufficient number of armed, unarmed, mobile, and static security personnel are placed in the event area to prevent emergencies.
The reason you can trust our company for Halloween security is because we have been in the security service field for over 25 years and hence holds rich experience to render highly professional security services to clients. We immensely value our customers and so we thrive to remain consistent with our service quality. Also, we provide tailor-made services to meet your security needs and requirement.
Our guards recognize that it is often difficult to distinguish and identify the party guests because they are frequently dressed in spooky attire. As a result, it becomes simpler for criminals to enter as guests while concealing behind a mystifying disguise. This is the reason the ACS guards are always so watchful and make sure everyone is okay before they join the party.
Therefore, if you are searching for robust security guards for Halloween security, then do get in touch with us.  We are the finest professional security guard service provider in East Los Angeles & Commerce, CA. 100% quality  Halloween security service is guaranteed at a reasonable rate.
Contact Access Patrol Services at 866-770-0004 with questions about security guard duties, responsibilities and functions for commercial office properties in California and Arizona or click on https://accesspatrolservice.com