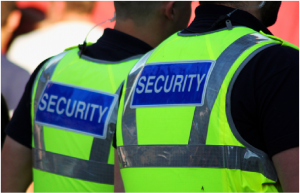 During events chances of disarray, commotion, fights are high due to the huge accumulation of crowd. And managing such a large crowd gathering in a calm and composed manner requires highly skilled professional event security guards.  It is also a fact that when an event is organized, felons or crooks try to take undue advantage of the event. They intentionally cause chaos and confusion, get into brawls to carry out their devious motives.
So, if you are organizing an event then it is advisable to get professional security services from a reliable source like Access Patrol Services (APS) for proper supervision, administration and protection of the event or place.
APS is a professional security guard company in Coachella & Thermal, CA that is known for its excellent security service facilities to clients.  Honestly, for more than 26 years APS has been a trusted name in the security industry. The company follows unique techniques and strategies to render absolute security protection to events or premises. Besides, it only selects top security professionals and BSIS certified security guards for rendering high-quality security services.
The organization identifies that every event is one of a kind and therefore formulation of the different security model for different events are a must. Thus, APS structures diverse strategies depending on the size and nature of the events. Consequently, before providing service to the upcoming event, APS's specialist strictly analyzes the entire area before chalking out an absolute security plan. This process helps APS in positioning security guards tactically and efficiently to provide absolute security cover to the most critical areas. Besides, a proper proportion of unarmed, flexible, static and armed security guards is allocated in the event area to eliminate emergency situations.
Most importantly, APS guards are meticulously trained and all the guards are BSIS certified. Hence, they are quite efficient and professional event security guards who are vigilant and robust to protect your event from uncertain dangers and ensure everything goes well without any obstruction.
Moreover, as APS is a highly tech-driven firm, various kinds of latest technologies such as RFID tags, CCTV cameras, GPS monitoring systems, automatic sanitisers, radio transmitters, metal detectors, scanning machines, flashlights, infra-red thermometers, and many other appliances are used by the APS guards for rendering out an out protection to any size of event.
Therefore, if you are searching for a professional security guard company in Coachella & Thermal, CA which can provide absolute protection to your event, then do contact APS for the same.
Contact Access Patrol Services at 866-770-0004 with questions about security guard duties, responsibilities and functions for commercial office properties in California and Arizona or click on https://accesspatrolservice.com