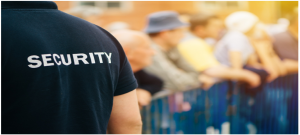 To turn your event a step closer to being a success, security service is the key fundamental aspect. The fact is even the smallest of events have millions of things to take care of.  And, it becomes extremely challenging to keep track of everything and every guest at the event venue.  Keeping professional security guards stationed strategically at the event venue can significantly help to deter chances of unauthorized access, chaos, brawls and ugly situations. Besides, intruders or crooks often try to slip into event venues that are poorly protected to carry out their devious motives. Therefore, whether you are arranging a large or small event, resilient security service is obligatory.
However, with so many security companies in Montebello & East Los Angeles, CA, finding the right security service provider for resilient security service can be a challenging task for an event organizer.  So, the best way to pick the right provider is by trusting a veteran security company that has substantial experience in the event security service. And, one such veteran company that has a mammoth amount of goodwill in the security market is Access Patrol Services (APS).
APS is a leading security company in Montebello & East Los Angeles, CA, committed to delivering flawless security service.  The company has offered security services to more than 200 + events APS has over 26 years of experience in the security domain and hence has the expertise to address security needs of all types and sizes of events. APS guards proactively look for suspicious activities inside the assigned event premise to abate all sorts of dangers and threats.
The fact is, BSIS-certified security guards are only hired in APS to ensure complete professional security service delivery.  Moreover, various training programs are arranged for the event guards to keep them upgraded with advanced security techniques. Plus, some of the regular training sessions include power drills, rapid decision-making programs, intellect development programs, first responder awareness programs.  Therefore, APS guards have the ability to protect event premises tightly and completely.  They know how to handle critical situations at events.
Most importantly, APS immensely understand the significance of technology in the security market. Hence, the guards of APS are usually well-equipped with many space-age security gadgets such as CCTV cameras, radio transmitters, GPS monitoring systems, metal detectors, scanning machines, biometrics, flashlights and many more to provide absolute event security service.
Therefore, if you are searching for a leading security company in Montebello & East Los Angeles, CA for absolute event security service, then get in touch with APS for the same.
Contact Access Patrol Services at 866-770-0004 with questions about security guard duties, responsibilities and functions for commercial office properties in California and Arizona or click on https://accesspatrolservice.com