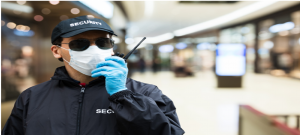 Security service is the key aspect to turn your event a success. Events have millions of things to take care of.  And, on top of that if you have to keep track of every activity inside the venue to deter chaos, brawls and dangers, then it can be extremely difficult for you to concentrate on the main aspects of the event. So, it is imperative to hire professional event guards to handle all such threats. Professional event guards not only help to prevent threats but also enforce rules and regulation of the events to the visitors. They assist the visitors and help to prevent chaos and maintain order.  So, if you are arranging a medium to large scale event, then hiring professional event security guards is an absolute necessity.
However, with so many security service providers in South Gate & Compton, finding the right security company for event security can be a challenging task for an event organizer. The best way and safest way to avail of professional event security service is to trust a veteran security company that has a good amount of experience in the security service domain. And one such company is Access Patrol Services (APS).
APS is a leading security company in South Gate & Compton, CA that has protected more than 500+ events.  The company is committed to delivering accurate security service facility to events. It formulates an exclusive security plan depending on the types and size of the event after thoroughly analyzing the event premise.  Moreover, being customer centric company, APS also discusses their security strategies with the event organizers to ensure all their needs and preferences are met.
The fact is, APS has over 26 years of experience and hence has the ability to address the security needs of all types and sizes of events. APS's event security guards are highly skilled, BSIS certified and trained professional. They possess the skill to manage large crowd and can handle irate guests professionally. Besides, they proactively look for suspicious activities inside the event's premise to abate dangers and threats.
Most importantly, APS guards remain well-equipped with many space-age security gadgets such as CCTV cameras, radio transmitters, GPS monitoring systems, metal detectors, scanning machines, biometrics, flashlights and many more to provide complete and professional event security service.
Therefore, if you are searching for a leading security company in South Gate & Compton, CA for event security service, then get in touch with APS for the same.
Contact Access Patrol Services at 866-770-0004 with questions about security guard duties, responsibilities and functions for commercial office properties in California and Arizona or click on https://accesspatrolservice.com