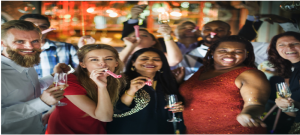 While planning an event, your focus should not only be on the food, decorations or entertainment, but also on the security of the event venue.   The fact is, in most events, managing crowds become a challenging task as not all crowds behave properly as expected and hence, chances of chaos, brawls, and fights are usual.  Besides, criminals and offenders try to slip into these big events which don't have hard-line security services.  Therefore, constant surveillance of the activities on the event site is mandatory to ensure safety and security for the guest.
So, if you are about to plan an event in the near future, you must not overlook security got your event. You must hire only professional event security guards company in West Covina & Baldwin Park, CA from a reliable security company in West Covina & Baldwin Park, CA which has a considerable amount of experience in event security service. And, one such professional security company is Access Patrol Services (APS).
For more than 26 years, APS has been rendering superior security protection to large as well as small-scale events. And, since the company has been in the security market for so long, it has the expertise to craft the best security strategies to provide complete security protection to events. The guards hired in APS are BSIS certified. Plus, various training programs are arranged for the guards to keep them efficient. Some of the compulsory training sessions comprise crowd control management, power drills, first responder awareness programs, intellect development programs, rapid decision-making programs and many more. Therefore, the guards are extremely proficient to detect looming threats and can prevent the same. They patrol the event's premise consistently to eradicate fishy activities that may pose threat to the event or guests.  They are excellent crowd controllers and know how to defuse fights and brawls. The guards of APS are stationed at all the entry and exit points of the event venue to prevent unwanted guests to enter the event.
Besides, the guards are also provided with innumerable security gadgets such as CCTV cameras, GPS monitoring systems, radio transmitters, metal detectors, and scanning machines, for providing absolute security cover for the event security.  Needless to mention, APS offers a fully customized security facility to the clients so that they can incorporate security features as per their needs and preferences.
Therefore, if you are searching for a highly professional or reliable security company in West Covina & Baldwin Park, CA for professional event security guards then gets in touch with APS for the same.
Contact Access Patrol Services at 866-770-0004 with questions about security guard duties, responsibilities and functions for commercial office properties in California and Arizona or click on https://accesspatrolservice.com