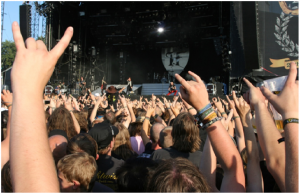 Behind every successful event, there is a hard-line security service that ensures everything goes as per the event organizers. Security professional at events helps to maintain the decorum of the premises and ensures that no unwanted guest get access to the event premises. They keep an eye on the ongoing activities of the event's premise and discard all sorts of fishy activities that can pose a threat to the event. Also, event security guards help to manage crowds and assist the guest with their queries. Professional event guards are supremely trained security professionals who know how to deal with irate guests and act professionally to defuse ugly situations from getting worse. Therefore, if you are arranging an event and want to run exactly as per your expectation, then it is of utmost necessity to hire professional event security guards in La Verne & Claremont, CA  from a professional security company for genuine security service.
Access Patrol Services (APS) is one of the most preferred security companies in La Verne & Claremont, CA for event security service.  Depending upon the size and type of the event, APS crafts a security model to render accurate security service, APS specialists carefully and strategically place all the guards at the event venue to ensure the entire perimeter of the site has absolute security coverage. All the entry and exit points are protected tightly by placing both armed and unarmed security guards.
APS carries over 26 years of experience in event security service and hence has the most strategic and robust security approach to provide impeccable security service to clients. Most importantly, APS's specialists discuss the entire security strategy and plan with the client and only when the client is satisfied, APS proceed to execute the service.
APS's event security guards are provided strength training and other training sessions are arranged which include crowd control management, first responder awareness programs, intellect development programs and many more. Therefore, the guards of APS are extremely proficient at detecting impending threats at an event and know how to take appropriate steps to avert crimes from occurring.
Besides, the guards are provided with many advanced security gadgets such as CCTV cameras, GPS monitoring systems, flashlights, radio transmitters and many more for errorless security service delivery.
Therefore, if you are searching for one of the most preferred security companies in La Verne & Claremont, CA for professional event security guards, then gets in touch with us ASAP.
sContact Access Patrol Services at 866-770-0004 with questions about security guard duties, responsibilities and functions for commercial office properties in California and Arizona or click on https://accesspatrolservice.com