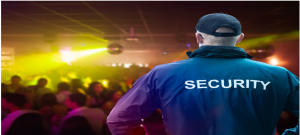 No matter whether you are arranging a medium or large-scale event, intensive planning, supervision and preparation are requisite to make your event successful.  Now, with so many aspects to take care of, as an event manager, it would be challenging for you to keep track of every guest at your event.   We cannot deny that during an event,   chaos, confusion and brawls are possible incidents. And so to deter such uncertain threats or situations; you require professional security intervention to establish a safe and secure ambience.
Having professional event security guards at your event can help you to prevent intruders, pacify irate guests and avoid chaos. The main responsibility of professional event guards is to patrol the event venue to make sure the premise is free from suspicious activities that can hamper the ambience of the event. Besides, they are also responsible to assist the guest. So, if you are about to arrange an event in the near future, you must hire professional event security guards for your event from Access Patrol Services (APS).
APS is a highly reliable security service provider in Oxnard & El Rio, CA that offers customized security services facilities to meet the security needs of the clients. APS has a proven track record of successfully protecting more than 1000 + events in the past 26 years. Clients put their trust in APS due to its accuracy and sheer dedication to providing only the best security service facilities.  For every assigned event, an exclusive security plan is crafted after visiting the event venue to provide full security coverage to the event. Most importantly, the guards hired in APS are BSIS certified and trained. Hence, APS guards are highly capable to defusing threats and handling critical situations. They stay extremely vigilant to ensure nothing hampers your event. These guards also take quick action if they notice any suspicious activities. Therefore, you can completely trust APS event guards for professional security protection of your event.
Most importantly, these guards are also provided with many advanced security gadgets such as CCTV cameras,  GPS monitoring systems, radio transmitters, RFID tags, infrared thermometers, automatic sanitizers, mobile devices, etc for seamless security service delivery.
So, if you are looking for a highly reliable security service provider in Oxnard & El Rio, CA for professional event security guards, then get in touch with APS for the same.
Contact Access Patrol Services at 866-770-0004 with questions about security guard duties, responsibilities and functions for commercial office properties in California and Arizona or click on https://accesspatrolservice.com