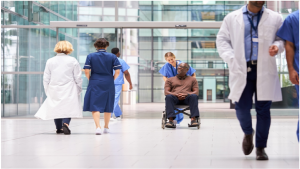 As per reports, it has become 82% more challenging to maintain hospital security over the past two years. And for this reason, about 61% of hospitals are setting up to elevate their security service. The fact is Health care professionals often fall victim to violence. Reports revealed that between 8 % and 38% of health care professionals encounter physical violence at some point in their careers. So, to create a safe space for healthcare staff, it is essential for healthcare facility managers to ensure the hospital setting is free from threats and dangers.
Some of the potential risks that can transpire in a hospital are as follows:
Verbal aggression towards health care professionals
Trespassing of unauthorized individuals in the prohibited area
Patient elopements/patient wandering
Vandalism
Auto thefts/car break-ins
We, Access Patrol Services (APS) are a leading security guard company in Dallas, TX that has the proficiency to provide absolute security protection to all types of the hospital setting.  APS has over 26 years of experience. And owing to such a high amount of experience, we have garnered the ability to create an absolute security structure for hospitals. To maintain a high standard of our service, we employ only experienced and BSIS certified security professionals.
Besides, to keep our guards active and professionals, we provide rigorously training to our guards. Crowd control management, rapid decision-making programs, intellectual development programs, first responder awareness programs etc, are essential parts of the training sessions of our hospital security guards. Therefore, our guards are highly trained to detect imminent threats and thus can act rapidly to defuse the same.
Most importantly, we create an all-inclusive security plan addressing all the critical points of the assigned hospital premise. Once the plan is formulated, we position our security guard strategically. Also, to align the security needs of the hospital authority, we also offer a personalization facility to them so that they can add or pick security specifications as per their needs and preferences. We also make sure that appropriate deployment of a proper mix of armed, unarmed, static, and mobile guards to handle critical situations. Therefore, some of the guards are specially allocated to patrol the premise to keep a thorough vigilance and to discard fishy or suspicious activities
Besides, the guards use various modern appliances such as CCTV cameras, radio transmitters, mobile devices, scanning machines, infrared thermometers, automatic sanitizers, and many other appliances to completely secure the hospital premise.
Therefore, if you are searching for a professional security guard company in Dallas, TX, for hospital security, then get in touch with us ASAP.
Contact Access Patrol Services at 866-770-0004 with questions about security guard duties, responsibilities and functions for commercial office properties in California and Arizona or click on https://accesspatrolservice.com