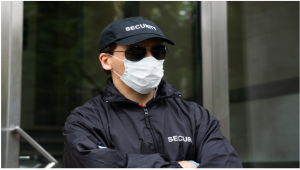 As per IAHSS Foundation 2022 Crime Survey, the rate of hospital violent crime, which includes murders, thefts, vandalisms, robberies etc has increased to a record 2.5 incidents per 100 beds in 2021. Previously, it was a 47% increase compared to 2020 when the rate of violent crime was 1.7 per 100 beds.  The act is accessible to all people and therefore, it becomes easier for criminals to access the premise and commit crimes. For this reason, it is decisive for hospital authorities to take strong security measures to abate uncertain threats and dangers. And, one of the best ways to protect hospitals is by hiring dedicated security guards from Access Patrol Services (APS).
APS has secured over 500+ hospitals in the past 26 years. It has a dedicated team of hospital security guards who are supremely trained and BSIS certified. These guards know their responsibility and take robust steps to main the decorum of the premise.  They are trained in crowd control management, rapid decision-making programs, intellectual development programs, power drills etc.  Hence, these guards are highly capable of tackling critical situations. They remain extremely vigilant and keep track of all the activities inside the hospital to prevent dangers. They also keep track of all the entries and entries inside the hospital to provide maximum protection.
Most importantly, a comprehensive security model is crafted by the APS's security specialist based on the layout of the assigned hospital.  The security model is crafted after carrying out the risk assessment procedure and locating all the critical areas inside the hospital premise.  This process is mandatory followed in APS for providing accurate security service delivery. The guards are positioned as per the security model to ensure each and every corner of the hospital premise get full protection. Moreover, a mixture of armed, unarmed, static and mobile guards is also deployed to the hospital premise for absolute protection. This is one of the reasons; APS is renowned as the most trustworthy security company in Granada Hills & Sylmar, CA.
Needless to mention, APS equips its guards with many of space-age gadgets such as CCTV cameras, radio transmitters, metal detectors, infrared thermometers, automatic sanitisers, flashlights, GPS monitoring systems, radio transmitters, alarms, scanning machines, etc., to render highly professional hospital security service facilities.
Therefore, if you are looking for the most trustworthy security company in Granada Hills & Sylmar, CA for professional hospital security service then get in touch with APS for the same.
Contact Access Patrol Services at 866-770-0004 with questions about security guard duties, responsibilities and functions for commercial office properties in California and Arizona or click on https://accesspatrolservice.com