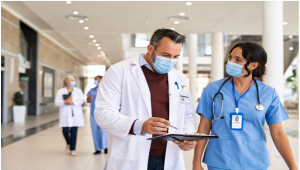 Hospitals are usually accessible to all. More than 500+ footfalls occur in hospitals and since these premises have such heavy footfall, it becomes extremely crucial to keep an eye out on the entries and exits. Convicts can easily get inside hospital premises and commit crimes if there are no stringent security facilities.   In fact, in the past few years, numerous hospitals witness medicine thefts, vandalism and robberies from cash counters.  Therefore, it is crucial for hospital authorities to take appropriate security measures to abate uncertain threats and dangers. And one of the best ways to protect hospitals is by hiring dedicated security guards from Access Patrol Services (APS).
For over 26 years, APS has been offering top-quality security protection to countless hospitals. And owing to such widespread experience, APS has garnered the expertise to provide accurate security solutions to all types of hospitals. APS's hospital security guards are supremely trained and BSIS certified. And, they take the responsibility to enforce hospital guidelines to maintain the decorum of the hospital. They stay on their toes during their duty hours and take immediate steps in the observation of any suspicious activities.
Besides, these guards are trained frequently which comprises power drills, rapid decision-making programs, intellect development programs, first responder awareness programs and many more. Hence, APS's hospital security guards have the high intellect to sense approaching threats and thus they can take opposite action to defuse the same.
Besides, to secure assigned hospital premises, an exclusive security plan is created before rendering security facilities. The plan is created only after carrying out the risk assessment process and identifying all the critical spots.  And thereafter, the hospital security guards are deployed to all the points to ensure absolute security coverage to the hospital premise
The most important aspect APS equips its guards with various kinds of space-age gadgets such as CCTV cameras, radio transmitters, metal detectors, infrared thermometers, automatic sanitisers, flashlights, GPS monitoring systems, radio transmitters, alarms, scanning machines,  etc., to render absolute security protection to hospital premise. And for this reason, currently, APS is tagged as the most preferred security company in North Hills & Panorama City, CA.
Therefore, if you are looking for a highly professional or most preferred security company in North Hills & Panorama City, CA, then gets in touch with APS for the same. 100% professional hospital security protection will be delivered to you at a reasonable rate.
Contact Access Patrol Services at 866-770-0004 with questions about security guard duties, responsibilities and functions for commercial office properties in California and Arizona or click on https://accesspatrolservice.com