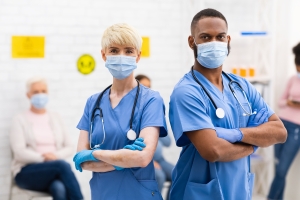 With the uncontrollable rise in COVID- 19 cases in the US, hospitals are now facing severe consequences due to overcrowding of patients. Doctors, nurses and hospital staffs are working tirelessly to combat this sudden rise in COVID cases. So, apart from doctors and nurses the need of the hour is also to have robust security guards stationed inside the hospital premises. Professional security guards help to manage irate, confused and anxious crowd efficiently thereby ensuring the premise is free from any chaos and confusion. In fact, in this uncertain time, it is crucial to seek resilient hospital security guards in Cerritos & Bellflower, CA from a professional security guard company like Access Patrol Services (APS) to ensure complete protection of hospital premises.
Violence prevention and response
The unpleasant truth is that violent crimes frequently take place at hospitals. These occurrences frequently take place in ERs with high levels of stress. High levels of distress, drug use, or a mental health emergency are common reasons for patients and visitors to reach the emergency room. Compared to hospitals in rural areas, the frequency of violent occurrences can also rise in metropolitan settings. Security officers in uniform can serve as a commanding presence and prevent violent incidents. Guards who have received training are able to spot potentially harmful behavior before it escalates. To avoid any injuries and to keep the building in order, they will take steps to deescalate the situation.
Another prevalent issue in hospitals is trespassing. It might be difficult to control visitors, especially in a busy healthcare institution. In these settings, access control is essential because uninvited guests with malicious intent may obtain access to expensive equipment, patient possessions, private data, or other priceless items. Guards that have been trained to work in a medical setting can be stationed at your entry points to keep an eye on people coming in and going out. These can also be placed in hospital restricted areas to make sure that only authorised people, such doctors or other employees, are allowed in.
Patients must feel secure while they are at a hospital, especially if they are unconscious or otherwise helpless. Patrols by security personnel can spot those who shouldn't be there or people acting suspiciously on that floor of the hospital. They can verify login information to make sure visitors have logged in in accordance with your access management systems. In order to prevent future trespassers from gaining access, they might accompany anyone they find within the structure out and report the occurrence.
So, if you are searching for a one of the most trustworthy security guard companies in Cerritos & Bellflower, CA  then look no further.
APS has been one of the finest professional security guard companies in Cerritos & Bellflower, CA for more than 25 years due to their relentless security service delivery. The organization has a robust team of BSIS certified security guards who ensure complete protection to any assigned area.
Besides, in the last year APS has been a major contributor to combat the spread of COVID -19. The fact is, just after the outbreak of COVID -19, APS immediately started to train their security guards to provide aid to businesses and residences. Therefore, the security guards of APS are highly skilled and trained who can meet all the security needs of healthcare centers.
While catering security service to any hospital premise, APS ensures that all the critical areas such as reception area, entry and exit points and other prohibited area is properly fortified by their hospital security guards. The guards of APS strictly enforce hospital guideline as well as COVID- 19 protocols to ensure that the premise is safe and secure. Most importantly, the guards only allow entry to those visitors who has mask on their face and sanitize themselves before entering the hospital setting. Therefore, the hospital security guards in Cerritos & Bellflower, CA of APS are highly vigilant, robust and professional individuals who have the ability to provide absolute security protection to hospital settings.
Needless to mention, APS's hospital security guards in Cerritos & Bellflower, CA also utilizes advanced technologies to render seamless security service to hospitals. For instance – RFID tags, CCTV cameras, GPS monitoring system, radio transmitters, metal detector, scanning machines, flashlights, cloud software, mobile devices and many more are extensively used by APS guards to provide full protection.
Also, right mix of static, mobile, unarmed and armed security guards is allocated to hospitals for tackling any type of critical situation. Furthermore, 24 hour service along with foot patrol service is also available. Therefore, APS is undoubtedly one of the top security guard companies in Cerritos & Bellflower, CA security guard companies in Cerritos & Bellflower, CA that one can completely rely for hospital security service.
Contact Access Patrol Services at 866-770-0004 with questions about security guard duties, responsibilities and functions for commercial office properties in California and Arizona or click on https://accesspatrolservice.com.