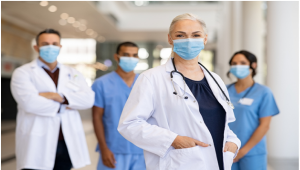 Chances of crime occurrences at hospitals can be high without proper security service.  The reason is, hospitals usually have heavy foot traffic. More than 500 + people visit in a normal hospital setting.  And so, without thorough security surveillance, anyone can camouflage as a doctor or nurse and commit crimes.  Besides, during overcrowding days, it becomes extremely essential to stay extra cautious to maintain order and discipline inside the hospital premises otherwise it can hamper, delay or disrupt medical care.  And for this reason, stationing professional and fully trained hospital security guards from Access patrol Service (APS) is a must.
Professional hospital security guards are skilled at recognizing risks associated with hospital premises.  They know when to take immediate action to eliminate crime occurrence. Most importantly, they help to maintain the decorum of the hospital premises by enforcing rules and regulations to all the visitors and staff.  Hospital guards also patrol the premise to discard suspicious activities inside the hospital premises.   These guards are also efficient crowd controllers and thus during overcrowding days or critical situations, they are proficient in handling hospital visitors efficiently.
So, if you are planning to get strong security support for your hospital you must get in touch with APS.   APS is one of the most highly professional security guard companies in Norco & Corona, CA has an extensive experience in hospital security service. And owing to such experience and exposure, APS has the ability to provide highly professional and accurate security service to all sizes of hospitals. Prior to rendering security facilities, APS specialists conduct a risk assessment and identify all the sensitive areas of the hospital premise and then a solid security strategy is crafted for the best security protection of the premise. Moreover, from time to time the guards are trained to enhance their skills.  Some of the training sessions comprise rapid decision-making skills, intellectual development programs, crowd control management, power drills and many more. They are provided with new security gadgets such as CCTV cameras, Scanning machines, metal detectors, radio transmitters, infrared thermometers, automatic sanitisers and many more for seamless security service delivery.
Also, APS offers customization facilities to the hospital authority so that they can pick security specifications as per their needs and preferences. Therefore, if you are searching for one of the most highly professional security guard companies in Norco & Corona, CA for hospital security service then gets in touch with APS for the same.
Contact Access Patrol Services at 866-770-0004 with questions about security guard duties, responsibilities and functions for commercial office properties in California and Arizona or click on https://accesspatrolservice.com