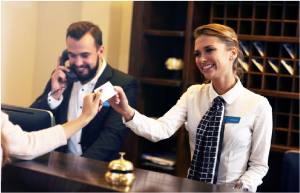 It doesn't matter how luxurious or deluxe your hotel appears or what services you provide, if your hotel doesn't have proper security service, you can lose customers significantly. Security is the top concern of any guest living in a hotel. If the guests don't feel they and their belonging aren't in safe hands they might not consider staying at your hotel. Therefore, if you are in the hotel business then apart from hospitality, security should be your topmost priority.
With Access Patrol Services (APS) you can provide your guest with the ultimate sense of security protection. APS is a renowned security guard company in Santa Maria & Orcutt, CA that has been in the hotel security business for more than 25 years.  Owing to the company's rich experience in this business it has garnered the ability to cater to the accurate security needs of any type of hotel/motel.
APS has efficient, BSIS certified security guards who have substantial knowledge to deliver immaculate professional hotel security service. The guards are provided with rigorous training on numerous critical security aspects and thus are capable of handling all types of difficult situations. They are always on their toes and keep vigilant to detect looming threats. Hence, they are highly vigilant, flexible and robust security professionals.
APS believes that to address security concerns of any premise, it is essential to formulate a comprehensive security plan that will address the sensitive areas of the hotel premise. For this reason, the security experts of APS visit the assigned hotel premise before rendering services. The guards are positioned in a very strategic manner so that no critical areas of the premises are left unattended. Besides, an appropriate mix of armed, static, unarmed and mobile guards is deployed to the assigned hotel premise to provide ultimate security protection.
Needless to mention, APS is an immensely tech-driven firm and keep on updating its strategies and technologies. Thus, the guards of APS use many state-of-the-art technologies such as radio transmitters, GPS monitoring systems, CCTV cameras, scanning machines, biometric access controls,  metal detectors, automatic sanitizers, infrared thermometers, cloud software etc.  Hence, the security service of APS is completely trustworthy.
Also, APS provides customization facilities to all their clients so that they can make security changes as per their needs and preferences. Even, APS offers a short-term contract facility to its clients. Therefore, if you are searching for a highly professional and renowned security guard company in Santa Maria & Orcutt, CA for absolute hotel security service, then get in touch with APS for the same.
Contact Access Patrol Services at 866-770-0004 with questions about security guard duties, responsibilities and functions for commercial office properties in California and Arizona or click on https://accesspatrolservice.com