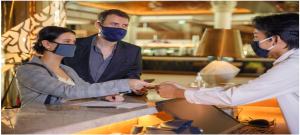 It takes more than just hospitality to succeed in the hotel industry.  If you want to make it to the top in the hotel industry you must not only pay attention to the hospitality factor but also to the safety and security of your guest.
Honestly, the little things do matter a lot in the hotel industry and security is one of the most essential factors guests consider while checking in a hotel. If the security service of a hotel isn't up to the mark, customers are less likely to visit the hotel.   Hence, it is essential that every customer should feel safe and secure after entering your hotel premise. For this reason, hiring professional hotel security guards company in Swansboro & Fomis, CA are an absolute necessity to keep hotel premises safe from uncertain dangers. If the clients observe that the security surveillance and guards are hyper-vigilant they tend to trust the hotel.
However, being extremely watchful can also hamper the privacy of the guest.  Therefore, security guards need to have a balanced approach while rendering their services. Professional guards help to create a chaos-free ambience and help to maintain the decorum of the premises. They are stationed at the critical spots of the hotel premises for complete security protection. Professional hotel guards are proficient in taking rapid decisions during dire times and can abate dangers from occurring. The fact is professional hotel security guards are trained to handle multiple responsibilities. So, if you are searching for a reliable security company in Swansboro & Fomis, CA for absolute hotel security, then look no further.
Access Patrol Services (APS) is a pioneer in the hotel security market. It crafts unique security solutions for each of the assigned hotel; and do not rely on a traditional or pre-determined security model. APS has over 26 years of experience in the security industry and thus has the ability to provide top-quality hotel security services. The company has a dedicated team of hotel security guards who are uniquely trained to identify threats that may pop up inside a hotel premise and handle them with proficiency.
The guards of APS have the ability to take fast actions to defuse suspicious or criminal activities. Besides, they remain highly equipped with state-of-the-art equipment such as CCTV cameras, radio transmitters, mobile devices, scanning machines, metal detectors, automatic sanitizers, infrared thermometers, alarms, etc, to provide superlative security facility to the assigned hotel.
Therefore, if you are looking for a highly professional or reliable security company in Swansboro & Fomis, CA for top-quality hotel security service, then get in touch with APS for the same.
Contact Access Patrol Services at 866-770-0004 with questions about security guard duties, responsibilities and functions for commercial office properties in California and Arizona or click on https://accesspatrolservice.com