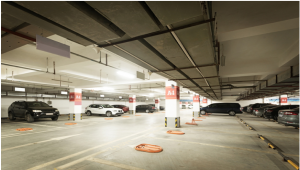 Over 500+ violent attacks take place each day across the U. S.  And parking lots are one of the most crime-prone areas. Therefore, having slack security facilities in parking lots can severely attract criminals to commit crimes. If you have a parking lot business, given below are a few key points that can help you to safeguard your parking lot from uncertain threats.
Adequate lighting:   Parking lots often have many blind spots. Hence, proper lighting in parking lots is one of the best ways to abate criminal activities and reduce accidents inside the premise.  Illuminating the critical areas can extensively lessen the risk of uncertain threats.
CCTV cameras: Installing CCTV cameras is a must at parking premises to have total visibility of the activities inside the parking lot.  Besides, the sight of CCTV cameras is also daunting for criminals. Hence, installing CCTV cameras must not be overlooked while providing security in the parking lot.
Installing panic buttons or alarms:   Installing alarm systems or panic button is another effective way in making parking garages safe.   The sound of alarm makes criminals uneasy and anxious.  It is a proven fact that criminals often avoid parking garages that have alarm systems.
Employing professional parking lot security guards:  Now, the most and the best effective way for protecting a parking lot is by hiring professional security guards. Professional and experienced parking lot security guards have the expertise to recognize looming threats that can pose threats to the client's premises. Thus, they have the proficiency to handle or defuse critical situations in an adept manner. Soki9f you are willing you hire professional security guards for your parking lot, then you must choose a veteran security company- Access Patrol Services (APS)
ACS is a trustworthy security guard company in Boron & Mojave, CA that deploys only BSIS certified, and experienced and professional parking lot security guards to the client's premise. Besides, APS has extensive experience of over 26 years in the parking lot security service and has secured over 500 +parking lots.   Also, APS crafts an exclusive security model for each of the parking lot premises to provide absolute security coverage. Therefore, hiring APS's parking lot security guards means you are choosing the best guards in town.
So, if you are looking for a trustworthy security guard company in Boron & Mojave, CA for professional parking lot security then, get in touch with APS for the same.
Contact Access Patrol Services at 866-770-0004 with questions about security guard duties, responsibilities and functions for commercial office properties in California and Arizona or click on https://accesspatrolservice.com