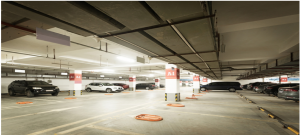 Parking lots are the third most areas that are prone to violent crimes. Nearly, 1400 violent attacks take place each day across the U. S.  And parking lots that have slack security systems are the hotbeds for criminals for thefts, robberies, and vandalism. Let's have look at the safety tips that can provide complete protection to your parking lot:
Sufficient lighting:  Parking lots that have enough lights not only abate criminal activities but also it minimizes accidents inside the lot.  Elevators, stairwells, and corners are all high risks areas of parking lots.   Hence, illuminating these areas can extensively reduce the risk of uncertain threats.
CCTV cameras: Installing CCTV cameras at various locations inside the parking lot will provide total visibility of the activities taking place inside the parking lot.  Besides, the sights of CCTV cameras are also intimidating criminals as they know that they are being watched. Hence, installing CCTV cameras is another major aspect one should not overlook while providing security to the parking lot.
Install panic buttons or alarms:  Having alarm systems or panic button is also effective at making parking garages safe.   The sound of alarm makes criminals or felons uneasy and anxious. Hence, criminals often avoid parking lots that have alarm systems.
Employing professional parking lot security guards:  The presence of physical guards is another major way to discourage criminal activities.  Professional and experienced parking lot security guards have the proficiency to recognize impending threats that are associated with parking areas. Thus, they have the expertise to defuse the same with proper and accurate action.
Access Patrol Services (APS) is a top security guard company in Garden Grove & Santa Ana, CA that offer top quality, BSIS certified, experienced and professional parking lot security guards.  Besides, the guards of APS are provided training on a regular basis to keep them active and flexible.   APS carries over 26 years of experience in the security service arena. Therefore, relying on APS's parking lot security guards means you are choosing the best guards in town. They are also provided with many advanced gadgets such as metal detectors, radio transmitters, scanning machines, alarms, CCTV cameras, mobile devices and many more.
So, for professional parking lot security guards look no further and get in touch with APS as it is the top security guard company in Garden Grove & Santa Ana, CA.
Contact Access Patrol Services at 866-770-0004 with questions about security guard duties, responsibilities and functions for commercial office properties in California and Arizona or click on https://accesspatrolservice.com