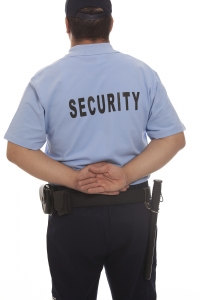 Bureau of Justice Statistics report states that over 10 % of all annual property crimes occur in parking garages which counts to more than 2 million parking lot crimes every year. So, if you think that parking lots aren't prone to many risks, then you are mistaken.  Over speeding is often the main reason for accidents in parking lots. Besides, poorly protected parking lots are lucrative to convicts for thefts, vandalisms and robberies.  So, it is important to have stringent security service at parking lots to ensure complete protection.
Professional parking lot security guards are aware of all the risk associated with parking zones. They have the competence to handle critical situations is professional manner.  To restrict unauthorized access, they check each and every car before providing access to the parking lot. They are responsible to keep track of check-ins and check-outs of cars. These guards also help to enforce parking lot guidelines to all the car drivers. They deter the cars from over speeding. Also, they help the drivers to find the spot for parking. Moreover, they ensure that no cars are parked in the prohibited zone.
So, if you want to hire best professional parking lot security guards, then contact Access Patrol Service (APS). APS is an experienced security company in Downey & Bell Gardens, CA that holds a mammoth amount of experience of over 26 years in the field of security service domain. APS guards are highly sensible and robust security individuals. They are BSIS certified and hence are proficient at handling risk is an adept manner. They patrol the parking premise actively to abate all sorts of suspicious activities in the parking lot.  The fact is APS also arrange numerous training sessions for its guards on a frequent basis to keep them updated with new techniques. Hence, the guards are skilled to respond to critical situations.
Besides, APS guards are also equipped with many state-of-the-art gadgets such as metal detectors, radio transmitters, CCTV cameras, GPS monitoring systems etc., for errorless security service delivery.   The most important aspect of APS is before rendering security service; APS crafts an exclusive security model of the assigned parking lot. The plan is chalked out only after analysing all the blind or sensitive spots and calculating the risk percentage. And then, the guards are deployed or positioned carefully in the parking lot for providing absolute security cover.
Therefore, if you are searching for an experienced security company in Downey & Bell Gardens, CA for hiring best professional parking lot security guards then get in touch with us ASAP.
Contact Access Patrol Services at 866-770-0004 with questions about security guard duties, responsibilities and functions for commercial office properties in California and Arizona or click on https://accesspatrolservice.com