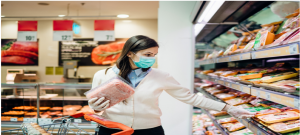 If you check the crime data for the past few months, you will be stunned to know that within the last 4 to 5 months there has been a staggering rise in crime rates. And due to such a sudden rise in crime numbers, every industry and business is escalating their security service for an extra layer of security protection.  The fact is even after having a security system installed at residences and businesses; convicts are able to successfully carry out crimes in broad daylight. So, in this pressing time, the need for stringent and advanced security services is of utmost necessity.   The importance of having security guard stationed at your premise is they keep an eye out for anything strange going on at a business or event is the main job responsibility of a security guard. They constantly maintain attention and alertness. They can identify abnormalities and choose the appropriate response thanks to their keen observational abilities. Their aim is to notice changes in the environment and assess the seriousness to determine whether management or public services are needed to assist. An efficient security guard responds quickly and effectively.  They also pay close attention to the little things and are on the lookout for any safety violations or risky behavior. Some of the stark qualities of efficient security guard are as follows:
As honesty and integrity are inborn traits, every employer values them highly. Security officers are in charge of protecting priceless properties and operate freely, with no permanent employer oversight. They can sometimes limit access to the structure or the event, which has the effect of protecting safety in those locations. They must therefore be dependable and trustworthy. When hiring someone for a job, it might be difficult to determine their moral character. After working with a guard for a while, these traits become apparent. Security companies, however, do extensive background checks on applicants before hiring them in order to lower risk.
Security personnel should always be prepared for the worst and also focus on defusing any tense situations and averting threats. A good security company seeks to employ security officers who can always maintain composure and maintain their composure under pressure.
With the numerous physical demands of their profession, security guards need to be in good physical shape. It can include covering a lot of ground, staying up late, or pursuing a thief. Health has a favorable impact on guards' quick thinking and helps them concentrate at work.
So, if you are seeking for high-quality security protection then you look no further.
Access Patrol Services (APS) is an advanced security guard company in Bear Valley Springs & Golden Hills, CA that offers premium quality security service to residences, commercial properties, businesses, and individuals.  It has a team of highly skilled security guards who are all BSIS certified. Besides, these guards are trained rigorously on a frequent basis to keep them flexible and efficient. Some of the mandatory training session for the guards is rapid decision-making programs, intellectual development programs, first responder awareness programs, power drills, crowd control management, and many more. Hence, APS guards are super-efficient and professional to provide high-quality security protection to their clients.
Besides, since we deeply recognize the importance of technology in the security industry. We highly equip our security guards with many space-age gadgets such as CCTV cameras, GPS monitoring systems, radio transmitters, mobile devices, scanning machines, metal detectors, alarms, automatic sanitizers, infrared thermometers, RFID tags, and many more.
Also, an exclusive security plan is prepared for each client or premise for providing errorless security service delivery. The plan is chalked out only after visiting the client's premise and recognizing all the critical or porous points of the premise. And, once the plan is finalized,   armed, unarmed, static, and mobile guards are provided to the site for superior security protection.
The fact is APS has been in the security industry for more than 26 years and hence carries substantial exposure to render accurate security facilities to all types of premises.  It is considered as the best security guard company in Bear Valley Springs & Golden Hills, CA simply due to its high professionalism and accurate security service facility. Most importantly as   APS prioritizes customer satisfaction, it leaves no stone unturned to cater to all the needs of its customers. For this reason, a complete customization facility is also offered to the client so that they can pick security features as per their choice.
Therefore, if you are looking for professional security guard company in Bear Valley Springs & Golden Hills, CA for high-quality security protection then get in touch with APS for the same. 100% professional security service will be delivered to you at a reasonable rate.
Contact Access Patrol Services at 866-770-0004 with questions about security guard duties, responsibilities and functions for commercial office properties in California and Arizona or click on https://accesspatrolservice.com