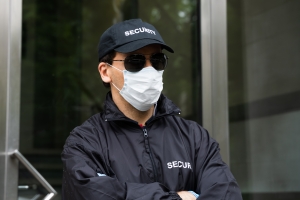 It is unfortunate that we have normalized crimes news as it has become persistent. Murders thefts, robberies, larceny, etc are transpiring erratically. But, overlooking or being reluctant to take precautionary steps to stay protected can cost us heavily. It is crucial to understand that getting professional security protection in this era is mandatory to retain peace of mind.
So, in this disturbing situation, where crimes are happening impetuously, it is indispensable to secure ourselves with robust security protection from a reliable security company like Access Patrol Services (APS)
We, APS are a well-known security service provider in Barstow & Yermo, CA that recognizes the current scenario and accordingly provide modernized and accurate security solutions to clients.  Besides, the company has been in the security service field for more than 26 years.  And due to such a vast amount of experience, the company has the ability to meet even the most critical security needs of the clients. Also, being a quality-oriented company, only BSIS certified security guards are employed and deployed to the client site.
Besides, to make sure the guards remain up to date, the experts of the APS train its guards on numerous security aspects. The few mandatory training sessions of the APS guards are power drills, rapid decision-making programs, intellectual development programs, first responder awareness programs and many more. Since these trainings are conducted at frequent intervals, the guards are able to remain fit, flexible and professional. The guards are also trained in a manner that they are efficient in detecting impending dangers and can act rapidly to defuse the same.
Also, APS structures a unique security model based on the client premise. For this reason, the security experts of APS primarily visit the client site, calculate the percentage of the risk associated with the location, marks the sensitive areas of the client premise and then formulate a robust security plan. Thereafter, a sufficient number of security guards are deployed to the site to keep a thorough check on the client's premises to provide complete security.
Besides, many advanced technologies are also used by the guards of APS for absolute security protection for instance- CCTV cameras, GPS monitoring systems, radio transmitters' flashlights, audio deterrent devices, mobile devices and many more. Therefore, the guards are not only efficient and robust but also well equipped to provide professional security protection to the client.
Apart from this, round the clock service facility is also offered to the client for addressing critical security emergency instantly. Therefore, if you are searching for a highly professional and well-known security guard company in Barstow & Yermo, CA then gets in touch with us ASAP.
Contact Access Patrol Services at 866-770-0004 with questions about security guard duties, responsibilities and functions for commercial office properties in California and Arizona or click on https://accesspatrolservice.com