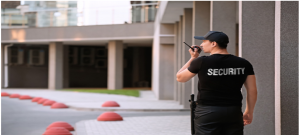 The prominence of crime is growing at a rapid pace with no sign of dissipation. These days' crimes are snowballing also because of the miusutilization of technologies. Technology is a boon to us and also for criminals.  And for this reason, criminals are exposed to new ways of committing crimes.  So, it is of utmost necessity to hire professional security guards who can outsmart today's tech-advanced criminal minds.
One such security company is Access Patrol Services (APS) which implements advanced techniques and technologies to prevent threats or dangers. APS trains its guards rigorously on a frequent basis to boost their skills.  Some of the compulsory training session includes rapid decisions making skills, intellectual development skills, power drills and many more. Therefore, the guards of APS have the ability to spot impending dangers and respond quickly to prevent the same. These guards are assigned to patrol the client's premises continually to discard activities that may threaten the safety of the client. Note that, the guards of APS are all BSIS certified and thus they are all professional security guards who can provide top-quality security protection.
Also, as APS understands today's security needs, it crafts security plans in a unique manner to provide superior and absolute security cover to clients. The security plan is structured after analyzing the critical points of the client's premise. Once, it is formulated, an adequate number of armed, unnamed, static and fixed security guards are allocated to the site. The fact is APS has over 26 years of experience in the security service field and thus holds a considerable amount of experience to meet the security concerns of clients.  Currently, APS is regarded as one of the most highly professional security guard companies in Canoga Park & Chatsworth, CA.
Also, from time to time, APS enhances and updates its security gadgets and techniques. Some of the security gadgets APS guards use are CCTV cameras, radio transmitters, biometrics, GPS monitoring systems, scanning machines, metal detectors, automatic sanitizers, infrared thermometers, biometric access control devices, RFID tags, flashlights, alarms and many more. Therefore, the guards of APS are fully equipped with modern techniques and advanced technology to outsmart today's criminal mind.
Also, APS offers round the clock service facilities to meet security urgency of clients. Beside, customized security service is also offered to the client so that they choose security features as per your need and preferences.
Therefore, if you are searching for one of the most highly professional security guard companies in Canoga Park & Chatsworth, CA for total security protection then gets in touch with us ASAP.
Contact Access Patrol Services at 866-770-0004 with questions about security guard duties, responsibilities and functions for commercial office properties in California and Arizona or click on https://accesspatrolservice.com