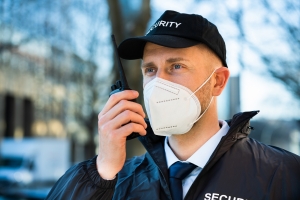 Protect yourself with robust security by picking a top class security guard company in Alhambra & Rosemead, CA
assigned premise to understand the layout and to calculate the risk associated with the premise. And then proceed to formulate a comprehensive security model to provide absolute security protection to the premise. Besides, APS ensures that the premise has a blend of armed, unarmed, static and mobile guards to tackle every kind of critical situation.
In addition, the APS guards are equipped with numerous advanced technologies such as radio transmitters, CCTV cameras, mobile devices, scanning machines, metal detectors, flashlights, GPS monitoring systems, RFID tags, infrared thermometers, biometric access controls, automatic sanitizers, etc., to render superior security protection to clients.
Apart from this, round the clock service facility is also provided by the APS guards to meet the urgent security requirements of clients. Plus, both vehicle patrol and foot patrol services are also available in APS for extended protection. Another important factor is, APS enormously value customer satisfaction and thus offers customization facilities so that clients can add or incorporate security specifications as per their suitability.
Therefore, if you are searching for a highly professional or top class security guard company in Alhambra & Rosemead, CA, then get in touch with APS ASAP. Only professional security guards are provided to the clients for 100% quality security service delivery.
Contact Access Patrol Services at 866-770-0004 with questions about security guard duties, responsibilities and functions for commercial office properties in California and Arizona or click on https://accesspatrolservice.com