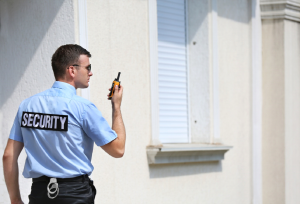 The ugly truth is we are so much familiar with the daily crime news that we hardly care nowss. But, this unconcerned behavior can land us in great trouble. If we don't arrange proper precautions beforehand then we can also be one of the victims. And so, arranging proper security service is the need of the hour.
Our organization, Access Patrol Services (APS) is a veteran security guard company in Artesia & Cerritos, CA that provides robust protection to clients from uncertain dangers. We believe that in this digital era, with the use of technology, convicts have turned 10 times smarter than earlier times. And so, to prevent them from committing crimes, a security guard company has to think and act beyond the thought process of convicts. We, APS exactly know what and how to implement best of security strategies to deter convicts from committing crimes.
Also, to provide highly efficient and professional security services to clients, we train our guards with unique methodologies and techniques. Besides, we only employ BSIS certified guards in our organization. So, you can be rest assured that no uncertified guards will be assigned to you.
The reason why we have been marked as the most preferred security guard company is because of our honesty towards our clients to deliver the best security service aligning to their preferences. We eminently dedicate ourselves to meet each and every security need of our client. The moment we are associated with our client we try to understand the real security necessities and render services accordingly. Therefore, customization security facility is also available in our organization. Our clients can add or incorporate security specification or even formulate entire security plan as per their needs and preferences.
Furthermore, for superior security service delivery we use numerous latest and advanced technologies such as RFID tags, CCTV cameras, GPS monitoring system, biometric access control system, radio transmitters, metal detector, scanning machines, flashlights, cloud software, mobile devices and many more. Also, since our organization has been in the security service field for more than two decades; we hold high efficiency to provide absolute professional security services to even high risk zones.
Therefore, if you are searching for resilient security guard company in Artesia & Cerritos, CA then do get in touch with us ASAP.
Contact Access Patrol Services at 866-770-0004 with questions about security guard duties, responsibilities and functions for commercial office properties in California and Arizona or click on https://accesspatrolservice.com