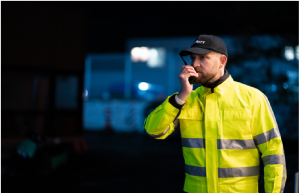 At present, we cannot imagine our life without security protection. The fact is with each passing day crime numbers are snowballing at a rapid pace.  Gun violence, thefts, murders, extortions, larceny, arson, vandalism, etc., are taking place almost every day leaving us all panicked and anxious.  Hence, in this hour, it is of utmost necessity to get professional protection to lead a healthy and happy life.
When we talk about a top-professional security guard company in Hesperia & Apple Valley, CA Access Patrol Services (APS) is one of the most reliable options.
APS is a tremendously client-centric company and renders tailor-made security facilities to its clients.   Only BSIS certified guards are employed in APS and thus no uncertified guards are provided to the client.  Besides, the guards are provided training at frequent intervals to keep their skills up to date. Some of the training programs include intellectual development programs, rapid decision-making programs, power drills, first responder awareness programs and many more. Hence, the guards are meticulously trained to handle all types of dire situations. The reason APS has been able to win the trust of the customers is because of its accuracy and professionalism to deliver top-quality security facilities at an affordable rate.
APS has over 26 years of experience in the security market and owing to such exposure it has the aptitude to provide absolutely professional service to its clients. Also, APS utilizes many space-age technologies such as radio transmitters, metal detectors, scanning machines, CCTV cameras, GPS monitoring systems, biometric access control devices, flashlights and many more. Hence, APS's professional security guards have the proficiency to outsmart manipulative minds and deter threats from occurring.
Also, an exclusive security model is structured based on the client's premise. All the porous points of the client's sites are marked and risk assessment is conducted to render accurate security service to the clients. Once the plan is chalked out security guards are deployed to the site ensuring the entire perimeter falls under the security surveillance of APS.  Hence, hiring APS guards means you are picking the most robust and professional security guards for protection.
Also, APS offers unremitting security service and hence the guards are available round the clock for rendering maximum security protection to the client.
Therefore, if you are searching for a top-professional security guard company in Hesperia & Apple Valley, CA then get in touch with APS for the same. APS also offers customized security services t its client.
Contact Access Patrol Services at 866-770-0004 with questions about security guard duties, responsibilities and functions for commercial office properties in California and Arizona or click on https://accesspatrolservice.com