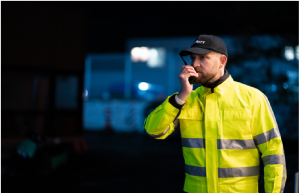 At present, we cannot imagine our life without security protection. The fact is with each passing day crime numbers are snowballing at a rapid pace.  Gun violence, thefts, murders, extortions, larceny, arson, vandalism, etc., are taking place almost every day leaving us all panicked and anxious.  Hence, in this hour, it is of utmost necessity to get professional protection to lead a healthy and happy life.
Security personnel at your place of business can effectively deter crimes. Your staff members will arrive more assured and less concerned about their safety. A security company in Hesperia & Apple Valley, California can help you safeguard your workplace so that it is protected from theft, vandalism, and other crimes.
Why do you need a security company in Hesperia & Apple Valley, CA to protect your assets?
Professional security guards are a crucial part of every business's security system. The security personnel will ensure that miscreants and criminals don't cause any trouble at your place of business. They'll essentially limit their access to the space where your firm is located.
The private guards will ensure that everyone in the office strictly abides by the rules, laws, and security standards. Anybody violating security procedures or the office regulations will be removed out of the building.
The guards will watch to make sure no weapons or illicit substances enter your office. Also, they will watch out to prevent unauthorised individuals from entering places that are only accessible to authorised individuals.
The private guards will efficiently secure your business location and patrol the entire workplace. They'll check to make sure there aren't any probable fire sources where a fire could start.
The security guards will keep an eye on everyone's movements and the business operations that are taking place. Any suspicious behaviour or anomalies would be immediately reported to the higher authorities and dealt with.
The professional security guards will also assist in securing the parking lots. In addition to enforcing the security regulations for the parking lot, they will manage the traffic flow. The security personnel will accompany any key individuals into and out of the building.
How to choose the best private security?
Choose the security company in Hesperia & Apple Valley, CA that provides customized security services as well as has great reviews. Check the reviews of their services on the different social media platforms. Make sure they have license, insurance and trained and experienced guards to protect your business.
Introducing Access Patrol Services
When we talk about a top-professional security company in Hesperia & Apple Valley, CA Access Patrol Services (APS) is one of the most reliable options.
APS is a tremendously client-centric company and renders tailor-made security facilities to its clients.   Only BSIS certified guards are employed in APS and thus no uncertified guards are provided to the client.  Besides, the guards are provided training at frequent intervals to keep their skills up to date. Some of the training programs include intellectual development programs, rapid decision-making programs, power drills, first responder awareness programs and many more. Hence, the guards are meticulously trained to handle all types of dire situations. The reason APS has been able to win the trust of the customers is because of its accuracy and professionalism to deliver top-quality security facilities at an affordable rate.
APS has over 26 years of experience in the security market and owing to such exposure it has the aptitude to provide absolutely professional service to its clients. Also, APS utilizes many space-age technologies such as radio transmitters, metal detectors, scanning machines, CCTV cameras, GPS monitoring systems, biometric access control devices, flashlights and many more. Hence, APS's professional security guards have the proficiency to outsmart manipulative minds and deter threats from occurring.
Also, an exclusive security model is structured based on the client's premise. All the porous points of the client's sites are marked and risk assessment is conducted to render accurate security service to the clients. Once the plan is chalked out security guards are deployed to the site ensuring the entire perimeter falls under the security surveillance of APS.  Hence, hiring APS guards means you are picking the most robust and professional security guards for protection.
Also, APS offers unremitting security service and hence the guards are available round the clock for rendering maximum security protection to the client.
Therefore, if you are searching for a top-professional security company in Hesperia & Apple Valley, CA then get in touch with APS for the same. APS also offers customized security services t its client.
Contact Access Patrol Services at 866-770-0004 with questions about security guard duties, responsibilities and functions for commercial office properties in California and Arizona or click on https://accesspatrolservice.com