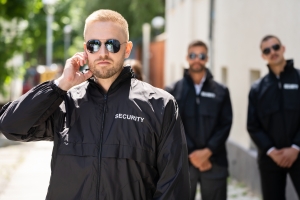 Get superior security protection by picking a well-established security guard company in Lamont & Fuller Acres, CA
We all are aware about the swelling crime rate. But, still many of us neglect the importance of arranging proper security service to protect ourselves from danger.  Extortions, thefts, loots, murders etc, are frequently occurring in broad day light. So, being reluctant can be perilous. Hence, before it's too late, protect yourself with robust security service from a professional company like Access Patrol Services (APS).
APS is a well established security guard company in Lamont & Fuller Acres, CA which provides extremely skilled and professional security guards to clients to render flawless and high quality security service. All the guards of APS are highly trained and BSIS certified.  Besides, APS keeps on adapting new techniques and technologies to provide superior service quality. Besides, since the organization has over 25 years of experience in this domain, APS has the right proficiency to deliver errorless and accurate security service to clients. So, if you get associated with APS you can be rest assured about the security service quality.
Besides, APS is a highly customer driven organization and so they offer full customization facility to the customer so that they can incorporate security specifications as per their needs and preferences. For instance – if a client demands more of vehicle patrol security than foot patrol or more of armed security guards than unarmed ones, then APS would execute the demand of the client within a very short span of time.
Most importantly, APS rigorously provides training to all their guards on a frequent basis. The organization believes that without regular training it is impossible to keep the service quality intact. Therefore, time to time security specialist of APS introduces new and advanced techniques and technologies to their guards to keep them updated. Moreover, the guards are also trained in a manner so that they can identify looming danger quickly. So, APS guards are undoubtedly one of a kind that provides unmatchable security service to clients.
The guards of APS are also proficient to handle advanced technologies such as CCTV cameras; GPS monitoring systems, radio transmitters, mobile devices, infra red thermometer, etc to provide high quality security service. APS also offer round the clock service facility to meet the urgent security need of the client. In addition, foot patrol and vehicle patrol service is also provided to the clients for maximum protection.
Therefore, if you are someone looking for a well established security guard company in Lamont & Fuller Acres, CA then contact APS for the same. 100 % guaranteed high quality security service will be provided to you.
Contact Access Patrol Services at 866-770-0004 with questions about security guard duties, responsibilities and functions for commercial office properties in California and Arizona or click on https://accesspatrolservice.com