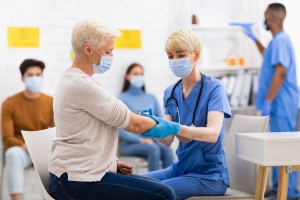 We all are aware that in hospitals various kinds of emotion transpire and so it becomes utmost necessary to have security guards who would have a balanced and composed attitude to handle critical situations. Most often doctors, nurses and other hospital staffs encounter aggressive behavior from the deceased or ill patient's family members. And honestly, at times situation goes out of hand. So, to control such serious circumstance, professional security intervention becomes indispensable. Given below are some of the crucial reasons to hire professional hospital security guards.
Preventing impending dangers
Some hospitals have large patient populations, which could lead to an unorganized setting. For instance, individuals who can act out suddenly are housed in mental wards. Even worse, they can snap and attack the nurse or guests. It is also a fact that many mentally ill patients have an inclination towards suicide, which means they are also capable of self-harm. For the protection of visitors, medical personnel, and patients, security guards should be stationed at certain locations.
Regulating access to sensitive areas
A hospital must be accessible to all visitors. And many healthcare facilities's open design raises the possibility of people entering restricted sections which can turn dangerous or perilous.  It must be understood that the foundations of a secure healthcare environment is regulated access.  A security guard is crucial in this situation. To make sure a patient, visitor, or doctor is where they should be, he routinely verifies IDs or badges. For instance, a patient is not permitted to enter high-risk wards or a room that houses test results and personal documents.
Providing assistance to customers
Security officers are noted for offering customer service in addition to doing their professional duties. They can direct guests to the appropriate division. In bigger parking lots, they can assist people in finding their cars. Also, they assist families or caregivers in bringing elderly or seriously ill patients into the treatment area. Visitors may receive assistance and direction from a security officer when completing out their form. They also help people who are elderly or incapacitated.
The hospitals are congested with crowds of patients, nurses, and other medical staffs scurrying back and forth as the doctors are under time constraints. All of this creates a noisy, chaotic environment that is stressful. Patients who are already anxious and their loved ones will become even more so. The hospital administration must hire proactive guards to deal with the crowd and traffic issues. They are capable of handling debates, disputes, and fights that result from such tense circumstances in addition to preserving order.
So, if you are searching for a highly professional security guard company in Windsor & Santa Rosa, CA for efficient  and quality hospital security guards, then look no further.
Our organization, Access Patrol Services (APS) is a reputable security guard company in Windsor & Santa Rosa, CA that renders highly professional security service to hospitals. We have a robust team of skilled and BSIS certified guards who are trained to provide security service to hospitals and health centre. Besides, our organization holds more than 25 years of experience in this field, so we possess immense capability to render high grade security service facility to any place. Therefore, you can blindly trust us on our service quality.
We understand that every hospital is unique and so we formulate different security model for different hospitals. We position our hospital security guards quite strategically to ensure that the entire hospital area is covered under the radar of our security surveillance. Our guards are placed in every entrances and exit of assigned hospitals for thorough inspection of every visitor. Besides, our guards enforce hospital guidelines to all the visitors to prevent unruliness or confusion. Moreover, they also ensure that the reception area is organized and free from any chaos. Therefore, our hospital security guards are extremely professional and vigilant protectors. Besides, we also use advanced technologies like CCTV cameras and GPS monitoring system to capture the real time activity of all the visitors and guards as well.
The most important factor that separates us from other organization is our adaptable nature.  With the changing time, we also upgrade our techniques, methodologies and technologies to meet the security concerns of any area. We understand that COVID -19 is still persisting, so we ensure that every visitor follows the sanitization process before entering the hospital premises. Also, we don't allow visitors to enter the hospital premise without mask.  Moreover, the mobile guards check that no visitor enters the prohibited or critical areas of the hospital without permission.  For this purpose, our guards patrol the hospital premises frequently every 20 minutes.
Therefore, if you are looking for a highly reliable security guard company in Windsor & Santa Rosa, CA, then contacts us immediately.
Contact Access Patrol Services at 866-770-0004 with questions about security guard duties, responsibilities and functions for commercial office properties in California and Arizona or click on https://accesspatrolservice.com .