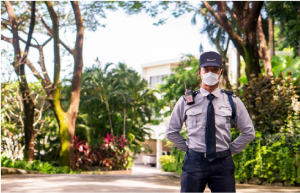 The physical presence of security guards in a premise can reduce crime occurrences significantly. Irrefutably, perpetrators feel intimidated to commit crimes where the presence of security guards is prevalent thereby establishing a strong sense of protection amongst the residents. So, even if your complex has innumerable advanced gadgets to provide security protection it cannot substitute the physical presence of professional security guards.
Professional security guards are trained protectors who can quickly respond to any emergency in an adept manner. Hence, it is essential to hire only professional security guards from a reliable security company like Access Patrol Services (APS) for absolute protection.
Honestly, APS is a well-known security guard company in Woodland Hills & West Hills, CA that renders services by blending state-of-the-art technologies with their highly skilled security professionals. The guards employed in APS are all BSIS certified and therefore no unskilled or uncertified guards are deployed to the assigned site. Also, a unique security model is chalked out based on the layout of the residential complex, addressing all the critical spots of the premise.  Hence, the services of APS's guards are often accurate and professional.
Besides, the guards are given rigorous training on a routine basis to keep them updated and flexible. Power drills, intellectual enhancement programs, rapid decision-making programs, first responder awareness programs, crowd control management,  fire drills are some of the compulsory training programs for APS guards.  Hence, APS's guards have the propensity to spot uncertain threats speedily and hence are skilled to take instant action to defuse the threat from occurring.
APS holds 25 years of experience in this industry, which enhanced the company to render simply accurate and professional security service to clients.  Besides, APS's guards use many advanced gadgets such as CCTV cameras, GPS monitoring systems, radio transmitters, flashlights, cloud devices, alarm systems, mobile devices, scanning machines, metal detectors, and many more to provide seamless security protection to the assigned complex.
Apart from this, APS also offers a 24-hour service facility to clients to address all their security emergencies. Needless to mention, APS immensely prioritizes customer satisfaction. For this reason, APS offers personalization facilities to clients so that they can incorporate or reduce security features as per their needs and preferences.
Therefore, if you are searching for a well–known security guard company in Woodland Hills & West Hills, CA, then gets in touch with APS for the same 100% guaranteed professional security service that will be provided to you at a reasonable rate.
Contact Access Patrol Services at 866-770-0004 with questions about security guard duties, responsibilities and functions for commercial office properties in California and Arizona or click on https://accesspatrolservice.com