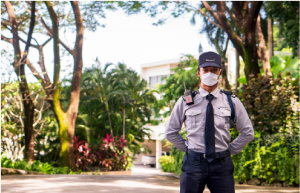 With the intense rise in crime rate, improving security services at our homes and offices have become quite essential.  No longer, homicide, burglary, extortion, etc., are rate incidents. These crimes are occurring repeatedly and randomly. In these menacing and uncertain times, the need of this hour is to get superior security protection from a professional security guard company.
Our company, Access Patrol Services (APS) is a 25 years old veteran security guard service provider in Keene & Bear Valley Springs, CA provides superior security protection to individuals and premises. We offer highly professional security services to clients by blending stare of the art technology and BSIS certified guards.  The guards' deployed guards to the assigned site are BSIS qualified and meticulously trained individuals. We understand that to deter crimes, a quick response is crucial. And therefore, we train our guards in a manner that they have the aptitude to spot uncertain threats rapidly and hence are capable of taking instant action to defuse crimes from occurring.
Our 25 years of experience in this industry has enhanced us to render the most accurate and professional security service to clients.  Since we are committed to providing highly professional service to clients; we prepare a robust security model after identifying the sensitive areas of the premise. And once the plan is structured, we render security services addressing all the critical points of the client premise.  We position our guards carefully to ensure that the entire perimeter of the assigned premise gets absolute security cover. Also, we deploy a mixture of armed, static, unarmed and mobile guards to the site so that every difficult situation is handled with dexterity.
Also, advanced gadgets are utilized for detail monitoring of the assigned site. For instance, CCTV cameras, GPS monitoring systems,   radio transmitters, flashlights, alarms systems, cloud devices, mobile devices, scanning machines, metal detectors and many more are used by our guard to provide seamless protection and high-quality security service to clients.
Apart from this, a 24-hour service facility is also included in our service to meet all our client's security urgencies.  We also offer personalization facilities so that if the clients require any modification or want to add any security specification they can request the same.  We promise to deliver the same without any delay.
Therefore, if you are searching for a well-established security guard service provider in Keene & Bear Valley Springs, CA then get in touch with us ASAP. 100% high-quality security service will be delivered to you at a reasonable rate.
Contact Access Patrol Services at 866-770-0004 with questions about security guard duties, responsibilities and functions for commercial office properties in California and Arizona or click on https://accesspatrolservice.com