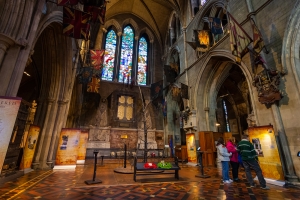 Recently it was reported that a bomb was exploded by some convicts at a church in California. The fact is, over the last two decades, church crimes have increased hastily. And so, California's Governor Gavin Newsom revised the guidelines for indoor church service.
Also, it was observed that crimes at churches are occurring only due to lack of stringent security surveillance. Therefore, it is immensely crucial for churches to employ robust and professional security guards for absolute protection.
Our organization, Access Patrol Service (APS) is a renowned security service provider which offers highly premium security guard services in Castaic & Santa Clarita, CA to ensure complete protection of churches. All our guards are BSIS certified and hence no uncertified guards are allocated to the assigned site for providing service. Besides, we provide right numbers of static, mobile, armed and unarmed security guards to the church for robust protection. Honestly, we have over 25 years of experience in this field and so we are highly capable of rendering premium quality security service.
Now, while providing security service to churches, we implement unique security measures to ensure complete safety of the place. We ensure all entry and exit of the churches have armed as well as unarmed security guards for robust protection. Besides, we position our guards quite strategically so that the entire area of the church falls under our security surveillance purview. Moreover, our church security guards are responsible for enforcing church guidelines to all the visitors.
Honestly, before catering security service to these sacred places, our security specialist first visit the church and then formulates a comprehensive security plan so that definite protection is provided to the place.
Besides, our organization is highly tech driven firm, therefore numerous advanced technologies such as RFID tags, CCTV cameras, GPS monitoring system, biometric access control system, radio transmitters, metal detector, scanning machines, flashlights, cloud software, mobile devices, infra-red thermometer, automatic sanitizers and many other appliances are used for total safety of churches.
Most importantly, our church security guards have the ability to recognize looming or impending danger quickly and so they can act quickly to deter crimes from occurring. Therefore, our guards are highly trained individual who are not only robust and sensible but are also highly vigilant protectors who can meet all the security concern of churches.
Therefore, if you are looking for highly professional security guard services in Castaic & Santa Clarita, CA then get in touch with us immediately. Besides, we also have customization facility and so our client can add or choose security plan or specifications as per their needs and preferences.
Contact Access Patrol Services at 866-770-0004 with questions about security guard duties, responsibilities and functions for commercial office properties in California and Arizona or click on https://accesspatrolservice.com