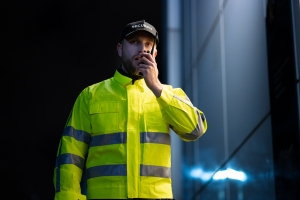 At present due to the advancement of technologies, crimes are committed effortlessly. You cannot refute the fact that on one hand we are blessed to have advanced technologies, but at the same time, it is also paving way for criminals to commit crimes. It has become far more critical to seize convicts or criminals these days. Until and unless one has a superior or advanced security service facility, it is near impossible to prevent thefts, robberies, break-ins and vandalism. Hence, availing of security services from a reliable security company in Lamont & Arvin, CA is a must to avert threats or dangers at our place.
Why do you need private security guard services for protecting your business?
Having security guards would be the most pragmatic and best thing you can do to make your business secure. Private guards help to optimize the security of a business. Hire security guards because:
With the help of the guards of a security company in Lamont & Arvin, CA, you can make sure crimes do not happen at your office/ business premise. They will act as visual deterrent and also stop crimes that are happening at the precinct.
Their presence will make the staff work much more diligently. Due to the presence of the private guards, the staff will produce better performance. This will help in increasing the revenue and profits of the business.
The security guards help in training the personnel in emergency preparedness as well as loss prevention. The employees will thus become more responsible and handle the business with much more accountability.
The security guards will patrol the entire area of the property and to make sure everything is in order. In their presence nobody will try to trespass into the property.
The guards will not let just anyone enter the building. Without proper permission and ID proofs, the guards will decline the entry of visitors. They will make the guests/ visitors sign the logbook before they enter or exit the building.
The guards will be in charge of the parking lots as well. Someone has to look after the traffic within the parking lots. There should be some executives who'll make sure that the cars are parked properly. The guards provided by a security company in Lamont & Arvin, CA will look after all of this.
When you hire security guards, you know that you'll get protection during emergencies as well. Hire a reliable security company to get the best security for your business right now.
Introducing Access Patrol Services
Access Patrol Services (APS) is one of the top security companies that aims to provide superlative security protection to clients by creating a security framework that encompasses each and every security aspect that requires outsmarting a highly manipulative mind.   Also, as APS hold over 26 years of experience, it has gathered the experience to address even the most critical security urgency of clients.
Let us have a look at why clients prefer APS over other companies for private security services:
BSIS certified security guards: APS strictly hires only qualified, experienced and BSIS certified security personnel.   Hence, no uncertified or poorly skilled security personnel are deployed to the client.
Training: APS realize that frequent training is crucial to keep gauds active and robust. Hence, numerous training sessions such as power drills, rapid decision-making programs, intellect development programs, and first responder awareness programs are arranged for the guards to boost their mental and physical skills. Hence, the guards of APS are highly efficient to spot impending threats and act swiftly to prevent the same.
 Advanced technologies:  APS continuously adapts new technologies to upgrade its security service.  APS guards use the latest security gadgets that are available in the markers. Currently, the guards are equipped with CCTV cameras, radio transmitters, GPS monitoring systems, metal detectors, flashlights, RFID tags, mobile devices, cloud software and many more.
Round-the-clock service facility:  Emergency can pop out any time and at any moment. Thus, APS offers round the clock security facility to the client to meet their urgent security need.
Customization facility:  For APS, customer satisfaction is the main priority.  For this reason, APS offers a full customized service facility to its clients. The clients have the liberty to pick security features or specifications as per their needs and preferences.
So, if you are in search of a reliable security company in Lamont & Arvin, CA for absolute security protection, get in touch with APS for the same. 100 % private security services will be provided to you at a reasonable rate.
Contact Access Patrol Services at 866-770-0004 with questions about security guard duties, responsibilities and functions for commercial office properties in California and Arizona or click on https://accesspatrolservice.com