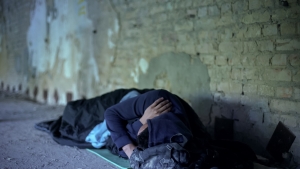 With the increase in homelessness in California, the need for security service is also rising intensely. Recently, a news report stated that California has the third largest homeless population in the United States. And so, these days dealing with homeless people has become a real challenge for many of us. The function of the security guard is vital in this situation. It goes without saying that the majority of company and home owners engage security guards solely to prevent crimes from happening at their properties. However, a security guard's responsibilities go much beyond this. It is also a significant component of the work that requires a special stature to deal with homeless people with the utmost dignity and integrity in order to ensure that they do not occupy the area.
Numerous locals and property owners gripe about how homeless individuals blight their neighborhood. However, because doing so would be a mentally taxing task for them, they are unable to remove them off the premises at the same moment. As a result, they depend heavily on security personnel. However, a lot of security officers are frequently unable to handle such a problem in a pertinent manner. Therefore, it is crucial to consider whether the contracted security service provider has the necessary skills to manage delicate situations like homelessness with compassion and dignity when hiring security guard services. You might think that managing homeless individuals doesn't require any specialized training and can be handled by any security service provider. But regrettably, this is untrue.
People who are homeless exhibit a variety of mentalities. Some may come across as meek and subservient, while others may come across as aggressive. Security guards must therefore possess various skill sets in order to cope with various types of homeless persons. There have been numerous documented instances of homeless persons acting violently and abusively toward security personnel. Correctly handling them becomes a difficult undertaking because even the smallest errors could result in significant problems. Only a trained security guard or professional security guards for homeless people can keep the proper approach in such circumstances. Therefore, it is crucial to do your research on the security service providers in Fontana & Lytle Creek, CA before using their services.
It is utmost necessary to employ professional security guards from a vintage company like Access Patrol service (APS) for dealing with this sensitive issue adeptly.
We, APS are one of the most trusted security service providers in Fontana & Lytle Creek, CA that has supreme ability to render highly professional security solutions to customers. Our organization has been in this field for over 25 years now. And owing to such vast experience, we have developed substantial aptitude to handle every critical security concerns of client.  Besides, we only employ BSIS certified security guards in our company and hence only licensed protectors are deployed to the client site.
Moreover, we do recognize the fact that specialized skills are required to handle homeless people efficiently. Therefore, all our guards are sufficiently trained to deal with the same. Consequently, our guards keep a polite yet firm tone while instructing or removing vagrants from the client place. Besides, our security guards for homeless people refrain themselves from acting aggressively until and unless it is absolute necessity. Honestly, our guards follow practical methods to ensure premium security service delivery.
Moreover, our security guards for homeless people keep themselves well informed about the contact numbers of various NGO's, police stations and supporting centers for homeless people. The information helps in guiding or shifting homeless people to the right place.  So undoubtedly, our guards are highly sensible and robust security professionals who can cater flawless service to the client.
Furthermore, our guards provide round the clock service facility to ensure that no suspicious activities piles up on the client site. Moreover, we offer both foot patrol and vehicle patrol facility to the client. Besides, numerous advanced technologies such as RFID tags, CCTV cameras, GPS monitoring system, biometric access control system, radio transmitters, metal detector, scanning machines, flashlights, cloud software, mobile devices are used by our guards to ensure total protection.
Besides, our organization also provides customization facility to the client so that they can choose security specifications as per their needs and preferences.  Therefore, APS is irrefutably one of the finest security service providers in Fontana & Lytle Creek, CA which can meet all your security need. So, contact us ASAP.
Contact Access Patrol Services at 866-770-0004 with questions about security guard duties, responsibilities and functions for commercial office properties in California and Arizona or click on https://accesspatrolservice.com