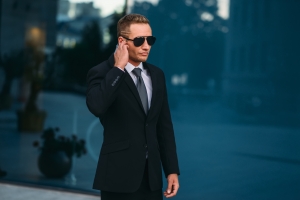 When you terminate a worker, you must inevitably deal with bitterness. While most of the time, termination usually goes without a hitch; it's not always the case. Escalations can happen, and the management has to avoid heated arguments, leading to conflicts. The best strategy is to hire security guards for potentially aggressive individuals.
Access Patrol Services ensures that every staff member is geared up for challenging employee terminations through our superior training. Now, Let's check the reasons you should consider hiring professional security services in Orange County for employee termination:
Employee Protection
Any escalation by an aggressive employee poses a risk to your team's physical, mental, and emotional well-being. A qualified security guard ensures a safe and peaceful farewell from the workplace. Planning for the worst-case scenario is always best to ensure everyone's safety. You can use the on-site security provided by your company when terminating employees.
Peaceful Transition
An effective strategy to address a dispute amicably is to have a meticulously planned employee termination procedure. In addition, a security presence should be at the top of your list of priorities. They serve as a barrier against potentially violent escalation without requiring direct intervention.
Enhanced Peace of Mind
Even with no emergency, professional security services in Orange County can make a difficult situation more manageable. This is particularly true when firing long-term employees having temper tantrums. Other employees may experience anxiety in these situations. Some of these concerns can be mitigated with the assistance of competent security staff.
Avoiding Future Problems by Being Proactive
Even if a troublesome person is fired, it does not necessarily mean the problem has been eradicated. Some displeased ex-employees can return to trespass, steal property, or cause property damage. Therefore, after an unpleasant termination, you should hire a security guard for at least a week to help avoid further incidents. Professional security guards have the skill and expertise to deter activities that could damage your firm.
Deescalate Conflicts                 
The employee termination procedure considers several people, including the employee in concern, management, and security guards. The most crucial experience a security professional may have is in workplace violence prevention training. Professional guards are trained in both verbal and physical de-escalation techniques. The fired employee will be escorted out of the facility following termination to avoid further conflicts.
As a reputable security guard company in Orange County, our staff are trained to handle any situation and provide you with optimum protection. Contact Access Patrol Services at 866-770-0004. For more details, click on https://accesspatrolservice.com.