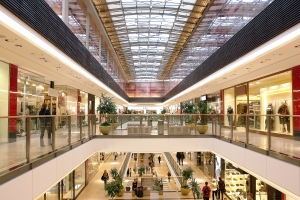 Shopping malls require unique security measures as heavy footfalls are usual in these premises. And controlling such huge crowds isn't easy. It is undeniable that shopping malls having poor security service facilities can face the risk of shoplifting and commotion.  For this reason, security services at shopping malls shouldn't be lenient.
Over the years, Access Patrol Services (APS) has garnered expertise to render accurate security solutions to shopping malls.  We, APS currently is the most preferred security company in San Rafael & San Quentin, CA for our ability to address even the minutest and critical security needs of all kinds of premises. We take pride in our 26 years of experience in the security field and thus we can strongly assert our clients regarding our service quality which is the best in the industry.
We employ only BSIS certified security guards in our company and hence only certified guards are deployed to the assigned premises. Besides, we intensely understand the importance of providing frequent training to the guards to keep their skills intact. Therefore, at frequent intervals, we train our guards on crowd control management, rapid decision-making programs, intellectual development programs, power drills and many more.  Hence, our shopping mall security guards are efficient to spot impending threats and thus can act rapidly to prevent the same.
Our shopping mall security guards take complete responsibility to enforce the mall guidelines to every visitor. However, if the guards spot any wary activities of any shopper or visitor, they immediately investigate the same, take actions and prevent crimes from occurring. Our guards are positioned quite strategically to ensure the entire layout of the assigned mall is covered under our security purview.  Few of the guards are allocated to the premise to keep patrolling the mall premise to discard all sorts of threats. Also, we allocate both armed and unarmed guards to the mall premise for absolute protection.
Plus, we keep our guards well equipped with CCTV cameras, radio transmitters, GPS monitoring systems, scanning machines, mobile devices, cloud software, infrared thermometers and automatic sanitizers etc. Hence, our guards are efficient to provide absolute protection to any assigned shopping mall.
Needless to mention, we also offer full customization facilities, therefore mall authorities can pick security features as per their needs and preferences.
Therefore, if you are in search of the most preferred security company in San Rafael & San Quentin, CA for shopping mall security, then get in touch with us ASAP.
Contact Access Patrol Services at 866-770-0004 with questions about security guard duties, responsibilities and functions for commercial office properties in California and Arizona or click on https://accesspatrolservice.com