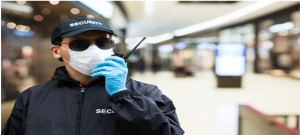 Shopping malls are not only a place where people go only for shopping. Shopping malls are seen as a place for entertainment due to their variety of facilities under one roof. From multiplexes and food courts to salons, shopping malls are a one-stop location for hanging out or satisfying your shopping spree. But, unfortunately, shopping malls aren't free from theft and vandalism.  Besides, mass shootings, pickpocketing, and shoplifting are some of the potential threats to shopping malls. The fact is, as shopping malls usually have a heavy footfall throughout the year, these premises encounter several security and safety issues. Hence, it is extremely necessary for mall authorities to remain extra cautious about the security service on these premises.
Access Patrol Services (APS) is a security company in Santa Clara & Sunnyvale, CA that understands the critical security aspects of all types and sizes of shopping malls.  The company provides practical and most accurate security solutions based on the assigned premise. The shopping mall security guards of APS are trained especially on how to respond to shoplifting, irritate customers and take the responsibility to maintain the decorum of the premises. From crowd control management, and power drills to first responder awareness programs, APS guards undergo vigorous training at frequent intervals to ensure superior security service facilities to the assigned shopping mall. Most importantly, the guards deployed by APS are BSIS certified and experienced.  And hence, no uncertified guards are allotted to the mall premise for rending security facility.
Besides, the shopping mall security guards are provided with several high-tech security gadgets such as CCTV cameras, radio transmitters, GPS monitoring systems, metal detectors, scanning machines,  infra-red thermometers,  automatic sanitisers and many more. The guards are positioned in the mall in the most strategic manner so that the entire perimeter gets covered under the security surveillance of APS guards.  These guards take immediate action as soon as they spot any type of threats inside the mall premises. Besides, they strictly enforce the mall guidelines to the visitors to ensure the total safety of the premise.  They carry out purse/bag verification of every visitor and check them with metal detectors before letting them enter the shopping centre. The fact is, APS has over 26+ experience in the security service domain.  Hence, it has vast experience in handling all types of critical situations with absolute expertise.
Moreover, APS provides a fully customized security service facility to the mall authorities so that they can formulate or incorporate security features as per their needs and preferences. Therefore, if you are searching for a highly professional security company in Santa Clara & Sunnyvale, CA then get in touch with us ASAP.
Contact Access Patrol Services at 866-770-0004 with questions about security guard duties, responsibilities and functions for commercial office properties in California and Arizona or click on https://accesspatrolservice.com