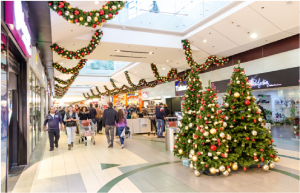 The time has arrived and almost all shopping malls are getting decked up with glitters, lights and crystals for the celebration of the most awaited festival – Christmas! People flock in large numbers to shopping malls for pre- Christmas shopping.
Now, due to this reason footfall increases terrifically in shopping malls during this time and convicts try to take advantage of this large jamboree. So, it is requisite for every shopping mall authority to tighten their security arrangement one notch higher during the time of festivals to avoid precarious activities in their mall premises. But before choosing any  security guard company in Malibu & Santa Monica, CA, it is essential to consider some of the key points which are as follow:
Reputation: One of the most crucial factors to consider when picking a security company is its reputation.  You must choose companies that have a good track record of providing professional services to their clients. Ask for references and speak to other businesses or individuals who have used the services of the company.
Experience:  Experience is one of the prime factors you must take into account while choosing a security company.  A company that has a proven track record of experience in the security industry is reliable. A company that has been in business for a long period of is likely to have a good amount of exposure and knowledge to provide authentic security service.
Services: Make sure the companies you pick have all the security features you require. Some companies specialize in certain areas, while others may offer a wider range of services. So, be clear about your needs and choose a company that can offer the services you need.
Staffing: The security company you choose should have a sufficient number of well-trained, armed and unarmed professional shopping mall security guards to provide complete protection. This includes both security guards and support staff.
Licensing and Insurance: It is necessary to choose a security service provider that is licensed by the state and insured. This will ensure that the company is operating lawfully and that you are protected in the event of any accidents or incidents that may occur on your property.
Access Patrol Services (APS) is a leading security guard company in Malibu & Santa Monica, CA that provides robust security cover to all types of premises including shopping malls. It formulates a concrete unique security model based on the assigned premises. The company renders services imbibing advanced technologies and providing highly skilled BSIS security guards. APS doesn't deploy uncertified guards to assigned premises.
Besides, the company recognizes that training is something that helps guards to retain their skills. Hence, on a routine basis, training is conducted for all its guards to enhance their flexibility and aptitude. The training session includes power training rapid decision-making programs, first responder awareness programs, crowd control management and many more. Therefore, APS's guards are efficient in handling all kinds of dire situations.
Now, since the guards are trained so meticulously, the shopping mall security guards of APS recognize their roles and responsibilities extremely well and help to maintain the decorum of the mall premise. For instance – the shopping mall guards check all the customers' purses and bags thoroughly to restore the safety of the mall premises. Moreover, since the pandemic outbreak, the guards also ensure that every customer goes through the sanitization process and wear a mask before entering the premises. Moreover, if at any moment the guards feel suspicious about anyone's behavior or observe any suspicious activities piling up, they instantly verify the same and discard it immediately.
The fact is, APS is a veteran company that holds extensive experience of over 25 years in this domain and therefore provides accurate security service delivery to all sorts of premises. APS also tremendously relies on advanced technology for flawless service delivery. And hence, the shopping mall security guards are provided with high-end technology such as radio transmitters, metal detectors, CCTV cameras, GPS monitoring systems, alarm systems, mobile devices, automatic sanitizers, infrared thermometers and many more for ensuring complete protection to client's premise.
Moreover, the guard of APS offers a 24-hour service facility and hence is available for round the clock service protection. The fact is the guards are trained to remain extremely vigilant during their duty hours.  Unprofessionalism is highly intolerable in APS and so instant action is taken against guards who manifest unprofessional behavior during their working hours.
Therefore, if you are searching for a highly professional and leading security guard company in Malibu & Santa Monica, CA for shopping mall security, then getting touch with us ASAP.
Contact Access Patrol Services at 866-770-0004 with questions about security guard duties, responsibilities and functions for commercial office properties in California and Arizona or click on https://accesspatrolservice.com