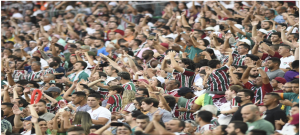 Public places such as stadiums and concerts usually draw a large number of crowds which is one of the main reasons for convicts to target these places. So, security at these premises must be of top-quality to eliminate illicit or criminal activities.  For convicts large gathering is an idyllic situation to commit criminal activities like pickpocketing, purse snatching and even murders. They can get away easily by immediately dispersing into the crowd, and for this reason public and crowded places are more prone to crimes compared to any other places. So, if you are an event organizer or in charge of managing large crowds in a stadium or a crowded place, make sure to hire only BSIS-certified security guards for absolute protection.
Professional security guards can ensure a steady flow of crowds, thereby reducing the chances of chaos and disorder. They remain highly vigilant throughout the event and take immediate action to eliminate suspicious activities to defuse impending threats.  Besides, professional guards are also adeptly trained to handle fights and brawl in a professional manner. Hence, for stadium security, employing highly skilled and professional security guards are an absolute necessity to establish a secure ambience in the event's premise.
If you are looking for a genuine security company in Fair Oaks & Orangevale, CA for hiring professional guards, then look no further.
Access Patrol Services (APS) has been protecting human lives for more than 26 years. It offers a comprehensive security solution coupling with advanced technologies and superior security skills. Before offering security service to the assigned premise, APS's specialist runs a through scrutinization process to detect critical spots of the premise.  Thereafter, a solid security plan is formulated taking into account of all the critical points and the needs and preferences of the clients.  Hence, trusting APS's security services means you are picking the best security facility in town as unique techniques and strategies are implemented by the guards of APS for seamless security service.
APS hires only qualified, experienced and BSIS certified guards.  Therefore, clients can rest assure that only professional service will be delivered. APS guards have the ability to figure out the impending dangers and thus can take apt action to defuse the same. Also, APS guards are provided with many space-age gadgets such as radio transmitters, CCTV cameras, metal detectors, scanning machines, mobile devices, infrared thermometers, automatic sanitizers and many for the ultimate security protection of the assigned premise.
Therefore, if you are searching for a highly professional or genuine security company in Fair Oaks & Orangevale, CA for absolute protection of your concert, event, stadium security, etc., then get in touch with APS for the same.
Contact Access Patrol Services at 866-770-0004 with questions about security guard duties, responsibilities and functions for commercial office properties in California and Arizona or click on https://accesspatrolservice.com