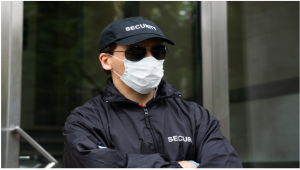 Crimes across the globe are rising at a lightning speed. Never a day goes by when crimes aren't taking place. From murders to robberies,   you will find something or the other is happening in some parts of the city.  You cannot deny that the moment we switch on the news channel, we find news channels are flooded with crime-related incidents.  And this is why security protection is a must to stay protected. Being ignorant about safety and security at this moment can be death-defying.  So, if you want complete protection for your loved ones or your family, then look no further.
We, Access Patrol Services (APS) are a veteran security company in Stanton & Garden Grove, CA that offers solid security protection to clients. We understand that for addressing crimes in today's time; integrated and superior security techniques are required. So, though we are a veteran security company, we know how to craft solid security strategies. Associating with us will provide you with professional security facilities. We carry 26 years of experience plus we are highly adaptive to new security techniques.  We blend our experience and modern security techniques to ensure superlative security service.   The guards deployed by us to the client are all BSIS certified and experienced. We don't deploy unqualified or poorly skilled security guards to clients as we are highly conscious of our service quality.
We understand that every client site is different and requires a robust security plan to ensure the complete safety of the premise. And for this reason, an exclusive plan is chalked out after carrying out the risk percentage associated with the client premise and also after understanding the critical points of the client premise. And, only after this, an appropriate number of armed, unarmed, static and mobile guards are allocated to the site for highly-quality security protection.
Apart from this, APS is extremely inclined to security technologies to enhance its service quality. And for this reason, many state-of-the-art gadgets such as CCTV cameras, RFID tags, GPS monitoring systems, metal detectors, scanning machines, radio transmitters, infrared thermometers, biometrics and many more are used by the APS's guards for flawless security service. Moreover, round the clock service facility is also provided to the client to meet the client's security needs. Also, short-term contract facility is also provided to clients.
Therefore, if you are searching for a highly professional or veteran security company in Stanton & Garden Grove, CA then gets in touch with us ASAP. 100 % professional or highly-quality security protection is guaranteed.
Contact Access Patrol Services at 866-770-0004 with questions about security guard duties, responsibilities and functions for commercial office properties in California and Arizona or click on https://accesspatrolservice.com