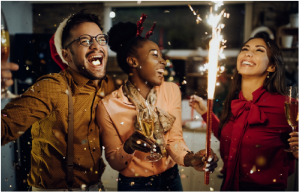 Have you ever wondered why always crime rate surges massively during the time of festivals?
It is simply because of our reluctance to secure ourselves during that period. It has been observed that since people remain engrossed in their festive mood, they often neglect their safety and security. This helps the criminals to execute their motives effortlessly. Therefore, this Christmas if you are planning to throw party at your lawn then make sure you secure the place with robust security protection.
Access Patrol Services (APS) is a renowned security provider in Grand Terrace & Highgrove, CA that provides supreme protection to all types of events. So, whether it is Christmas party security or New Year party security, you can employ APS guards so that your party runs through your expectation.
APS only deploys BSIS certified guards to the assigned sites or events. Also, the guards of APS are provided training on crowd control management, first responder awareness programs, rapid decision-making programs, power drills etc., on a frequent basis to keep their service quality intact. Plus, since the guards of APS are also selected based on their experience, they also possess the capability to sense looming dangers and thus are proficient to take quick action in times of need. Therefore, the guards of APS are substantially skilled to establish a safe and secure ambience for your party.
They help to prevent uninvited guests/spoilers from slipping into your party. Besides, if they observe any unruly behaviour or suspicious activities at the party, they immediately take steps to ensure nothing spoils the mood of the party. The guards continuously patrol the event premises to defuse uncertain threats.
Another reason for trusting APS is due to its colossal experience of over 25 years in the security service domain. Honestly, APS has garnered the ability to provide accurate security service facilities simply because of its years of experience and exposure.  The company has the ability to align the security needs of the client to their security model.
Most importantly, APS uses state-of-the-art technology such as CCTV cameras, radio transmitters, GPS monitoring systems, metal detectors, GPS monitoring systems, mobile devices and many more for providing seamless security service to your event.
Therefore, if you are searching for a highly professional and renowned security provider in Grand Terrace & Highgrove, CA for absolute Christmas party security then, do contact APS for the same. 100% quality security protection will be provided to you at a reasonable rate.
Contact Access Patrol Services at 866-770-0004 with questions about security guard duties, responsibilities and functions for commercial office properties in California and Arizona or click on https://accesspatrolservice.com