Retail Crime Increases During The Holidays—Will This Year Be Different?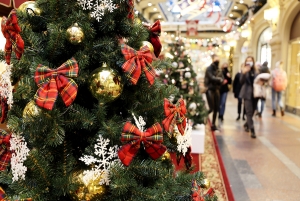 Even in these uncertain times, where many counties are limiting the number of customers in stores, retail crime is a big concern during the holidays. Retailers lose billions every year to shoplifters and organized crime rings. Will retail crime be just as prevalent this holiday season despite the reduced volume of shoppers? Retailers shouldn't take chances. Profit margins are razor thin. A robust security presence is critical.
Extra Store Security Guards During the Holidays.  Southern California has some of the largest shopping malls in the country. They include the Del Amo Fashion Center in Torrance (250 stores) and Westfield Topanga Mall in Canoga Park (295 stores). Mall and store management have to take action to protect merchandise from thieves.
Despite (or maybe because) of the pandemic, criminals will continue to attempt to steal items—either for personal gain or for illegal profit. Strategically placed store security guards can help keep products on shelves until sold.  Uniformed guards stationed at store entrances will discourage criminals and will detain those trying to steal until police arrive. Our experienced guards at Access Patrol Services regularly offer security suggestions to store managers to reduce crime.
Simple Retail Security Tips:
–Keep stores free of clutter and shelves neat. Don't over-stack entrances or aisles with merchandise or holiday displays that block lines of sight. Messy shelves are a signal to criminals that store employees aren't paying attention so it makes them feel emboldened to steal.
–Mount security cameras prominently throughout the store with accompanying signage.
–Have employees greet and make eye contact with all those who enter. It's an easy way to let all would-be shoplifters know they are being watched.
With every sale critical during these tough economic times, an investment in security guard services and security measures can be a wise move.
Contact Access Patrol Services at 866-770-0004 with questions about security guard duties during the holiday for stores and malls in Torrance, Canoga Park and throughout California and Arizona or click on https://accesspatrolservice.com.