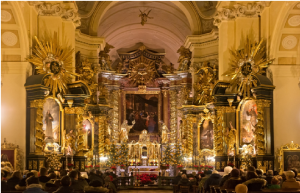 It is very disturbing to know that even churches, temples, synagogues, mosques also encounter crime-related activities. Studies revealed that violence at these places is rising terrifically. Therefore, it is time for church authorities to escalate their security service facilities at the earliest.  The reason is, Christmas is in the next month and during this period churches are mostly filled with crowds.  And convicts try to utilize this opportunity for carrying out hate crimes, thefts and vandalism. So, it is recommendable for every church authority to arrange for strong security for churches in Del Mar & Solana Beach, CA, especially for the coming festive season.
Access Patrol Services (APS) is a highly reliable security service provider in Del Mar & Solana Beach, CA that offers meticulously trained, BSIS certified and skilled security guards to render strong protection to churches. APS has a team of specialized security guards for rendering security service especially to churches.  Hence, church authorities can trust APS for high-quality security protection for their church premises.
Moreover, APS is a veteran company holding 25 years of experience in the security service industry.  And therefore, it possesses the capability to provide unparallel security service facility to churches. The APS guards are trained and experienced individual who have the proficiency to maintain the decorum of the church premises. They professionally enforce church guidelines to all visitors in a very polite manner.  Besides, they keep a vigilant eye on the activities occurring on the church premises. If they notice anything fishy or suspicious, they instantly verify the same and take an apt act to defuse the same. The guards' continuously patrol the church premise for absolute security cover.
Now, since APS is extremely committed to delivering accurate security protection to the assigned premise or churches, a robust security model is formulated based on the layout and perimeter of the churches. Initially, the security experts of APS visit the premises to mark all the critical points and to calculate the risk percentage associated with the premise. This process is compulsorily conducted by APS's security specialist for ensuring accurate security service delivery to assigned premises.
Moreover, APS relies on advanced technologies as well to deliver high-quality services to clients. Therefore, metal detectors, radio transmitters, CCTV cameras, scanning machines, alarms, GPS monitoring systems, flashlights, automatic sanitizers, infrared thermometers etc., are used by the church security guards of APS.
Also, APS extremely respects the needs and preferences of their clients and hence a full customization facility is offered to the church authority so that they can select security features or formulate the entire security model as per their suitability.
Therefore, if you are searching for a highly reliable security service provider in Del Mar & Solana Beach, CA for strong security for churches, then contact APS for the same.
Contact Access Patrol Services at 866-770-0004 with questions about security guard duties, responsibilities and functions for commercial office properties in California and Arizona or click on https://accesspatrolservice.com